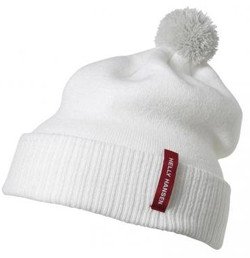 Helly Hansen Oslo Beanie ($20 @ Amazon.com)
Shredding snow, hitting the lodge, or launching snowballs at pip-squeaks, The Oslo Beanie from Helly Hansen fits the bill. This 100 percent acrylic beanie is double-layered with an extra high rib, offering your ears more coverage from Old Man Winter's gnarly breath.
Also: 7 Essential Winter Skin Care Tips For Guys
Plus the pom-poms add a twist to this classic style, making you look obnoxiously cheerful and energetic — which may or may not be a result of the cocaine Red Bull you just ingested.