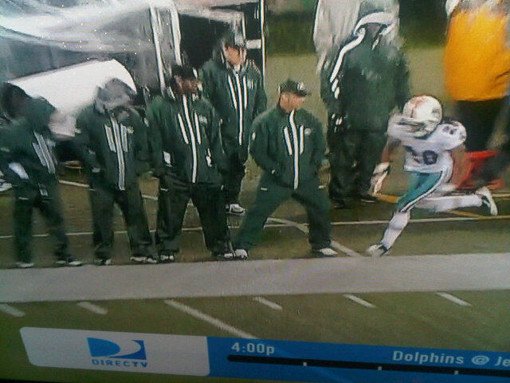 Back in 2010 Brett Favre received a $50,000 fine for sexting pics of his favorite halfback (don't make us spell it out for you) to a woman who wasn't his wife. Another '10 incident from the Jets involved assistant coach Sal Alosi who landed his team a $100,000 fine for intentionally tripping the Dolphins' Nolan Carroll.
For their actions, we've gotta say thanks. We almost forgot pro athletes and coaches get in trouble for more than bad mouthing officials, showing up late to practice, or missing flights. And while both Favre and Alosi get points for creativity in earning their penalties, we learned that there's no shortage of innovative ways the pros find to forfeit chunks of their salary, like…
Also: 25 Hilarious Signs At Sporting Events [Photo Gallery]

1. Shutting Up — It wasn't what he said, it's what he wouldn't say. Following a loss to the Kansas City Chiefs on November 16th, 2014, Seahawks running back Marshawn Lynch wasn't in the mood to talk to reporters. So he didn't. Not one of their dumbass questions — "How does it feel to lose?" or "Do you think scoring more touchdowns would have helped your team achieve victory?" — got a reply. The NFL  wanted answers from Lynch and didn't ask his opinion before fining him $50,000. Later, Lynch was hit with another $50K fine that was withheld from a previous incident.




Next: Rodman Insults Mormons, Kicks Dudes In The Junk