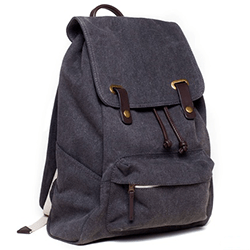 Everlane Snap Backback ($65 @ Amazon.com)
There's nothing wrong with a basic bag as long that it doesn't look too plain, and this straightforward bag does just that. It can hold a grab bag of gym clothes, or can serve an everyday purpose with the included padded laptop sleeve; it's great for commuters as well as gym goers.
Banana Republic Karter Tote ($150 @ Amazon.com)
Yeah, it's nylon. But that's okay, in this case; nylon is a moisture-wicking fabric that makes for an ideal spot to house your sweat-soaked t-shirt. Sleek in style and plenty roomy for gadgets and gear, this tote can discreetly sit in on any meeting and then transition straight to martial arts class without raising any eyebrows.



Next: Nike & Casual Canvas