Polo Ralph Lauren Canvas Gym Bag ($300)
It toes the line between classy and preppy, which simply means it's armed with plenty of style. With leather trim and lots of room for everything from a bocce ball set to running clothes to a small foam roller, this bag will satisfy the most discerning of gentlemen. Tennis, anyone?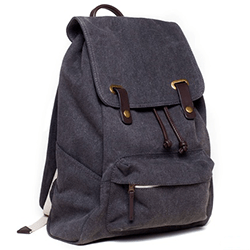 Everlane Snap Backback ($65 @ Amazon.com)
There's nothing wrong with a basic bag as long that it doesn't look too plain, and this straightforward bag does just that. It can hold a grab bag of gym clothes, or can serve an everyday purpose with the included padded laptop sleeve; it's great for commuters as well as gym goers.
Next: Banana Republic T0te