Larry Craig
Craig, a conservative Republican Senator from Idaho, was an enthusiastic supporter of anti-gay legislation. Well, all things considered that's not all that surpr — oh, wait.
Craig was arrested in 2007 at Minneapolis-St. Paul International Airport for propositioning an undercover cop in a men's room. Craig allegedly waived his hand under the partition, tapped his foot several times, and pressed his foot up against the officer in the neighboring stall. This was apparently a secret code for dudes who liked to get it on in airport bathrooms.
When questioned about whether or not he was trying to solicit sex, Craig told cops he simply had a "wide stance." Lol!
Craig pleaded guilty to disorderly conduct, but never admitted to soliciting sex from a man. Following the incident, eight gay men came forward claiming to have been either approached by Craig for sex, or to have actually boned Craig. He denied it as he served out his term. He did not seek reelection.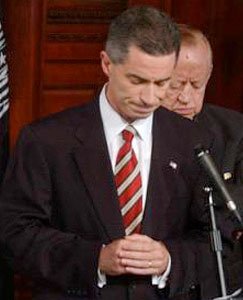 Jim McGreevey
McGreevey served as a democratic Governor of New Jersey from 2002 to 2004, when he abruptly resigned and proclaimed that he was "a gay American." A story that he was having an affair with a former Israeli Defense Force member who had worked on McGreevey's gubernatorial campaign was going to break any day, and he thought coming clean would help him save face. It didn't.
Further reports in the press made it seem as if his wife may not have been as shocked as the rest of the country. Teddy Pedersen, a former driver for the governor, came forward with a story about how the governor and his wife Dina regularly engaged in threesomes with him. Those romantic nights would allegedly begin at a local T.G.I. Friday's and then move back to the governor's home. Pedersen contends the three even had a special name for the trysts: "Friday Night Specials."
The McGreeveys divorced in 2008.