The city of Detroit has decayed so badly in the past 40 years that Snake Plissken would be uncomfortable walking around.
But that doesn't mean all that blight and decay is totally unappealing. Case in point, Lost Detroit, a new book by Motor City natives Dan Austin and Sean Doerr. The pair photographed and researched many of the city's abandoned landmarks, and what they found was fascinating, horrifying, and beautiful all at once. The book recounts the story of each structure from construction to abandonment with original photographs snapped inside the derelict buildings.
"Whether people love Detroit, hate Detroit, or are just visiting, they see these silent buildings but don't know anything about them," Austin tells us. "What were they? How did they get to be this way? Is there hope that they'll be reborn?"
In most cases, there's not a whole lot. But the book may help change that thanks in large part to its amazing photos. Check out some of the coolest starting on the next page.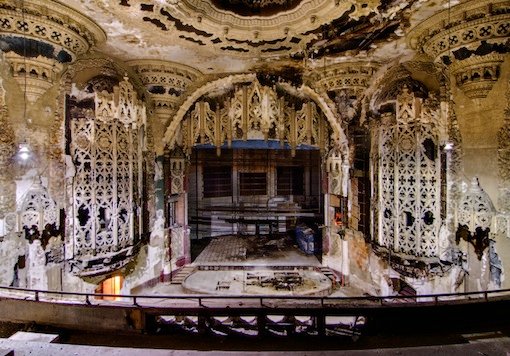 The United Artists Theater Auditorium was once as much of an attraction as the films it showed, but the building has been abandoned for 37 of its 82 years. Jennifer Aniston, behold your future.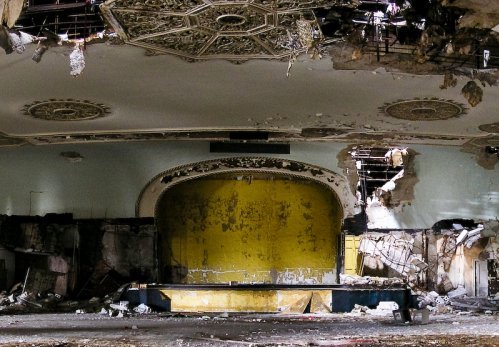 The Detroit Grand Ballroom was once, uh, grand. But the only entertainment it features now are crackheads tripping over chunks of ceiling.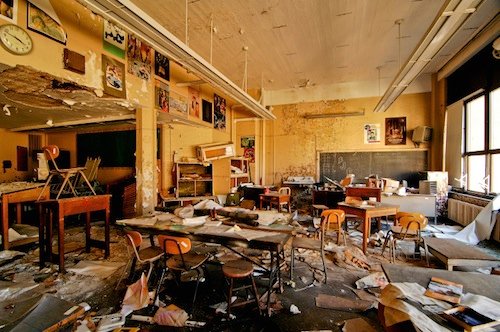 When Cass Tech High School was abandoned by Detroit's public-school system, the district left behind everything from desks to test tubes to musical instruments. Funnily enough, this is also how most people picture operational Detroit public schools.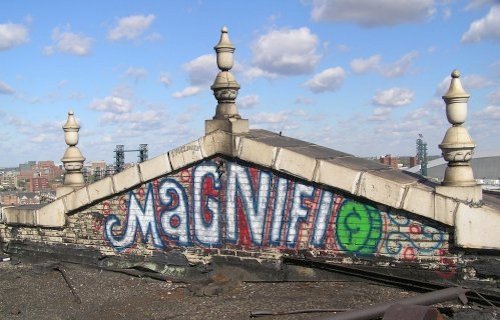 The 14-story Wurlitzer Building was once a monument to the dynamic music industry in Detroit. Now it's more of a monument to half-assed graffiti artists.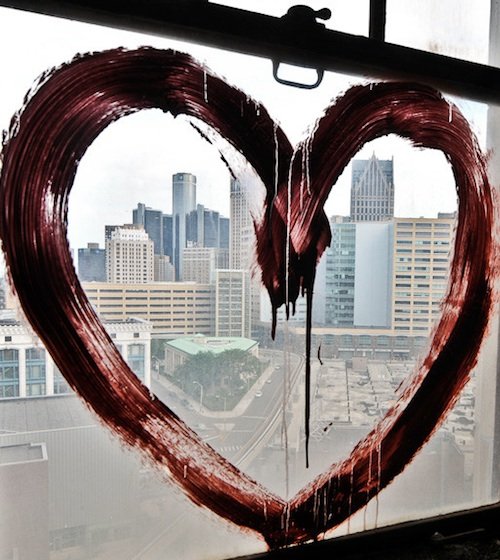 The good news: This heart, found in the Metropolitan Building, encapsulates downtown Detroit and indicates that citizens still have hope the once mighty city will bounce back. The bad news: There's an excellent chance it was drawn with a vagrant's arterial blood.
For 75 years, the now abandoned Michigan Central Station hosted countless partings and homecomings. It actually still serves the same functions, but for derelicts.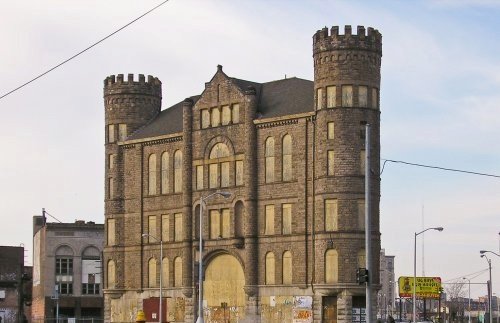 The Grand Army of the Republic Building, one of the oldest in Detroit, was erected so that Civil War veterans would have a place to hang out. And what better monument to our troops than a boarded-up castle?
This abandoned building was something called a "church." No one knows what our ancestors used it for.
Buy a copy of Lost Detroit for $25 at lostdetroit.com. And check out even more photos at buildingsofdetroit.com.