Whenever a chick gets engaged, there's always a huge fuss that's made over both the engagement ring and the wedding band. How many karats? Princess or solitaire setting? But with dudes, it's pretty simple. You get one wedding ring, end of story.
But does it really have to be so boring? If you're going to be wearing it on your finger every single day of your life, you might as well get something you like that represents your personality. We've compiled this list of some of the best wedding bands for men, so that you too can have something to brag about.
#1. Platinum Comfort-Fit Plain Wedding Band ($831-$930 @ Amazon.com)
This 6-millimeter wedding band is crafted from lustrous 950 platinum. A smooth interior allows for an easy fit while its polished finish adds a cool shine. This white-silver-colored rarity is hypoallergenic, proving the ultimate option for those with sensitivities to other metals. For top cleansing results, wash with warm, soapy water and store in a fabric-lined box.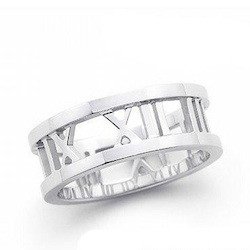 #2. Tiffany & Co Atlas Ring ($1,200) 
Believe it or not, Tiffany's offers an extensive line of jewelry and accessories designed specifically for guys, and that includes a collection of some of the best wedding bands for men. The Tiffany & Co Atlas Ring is made of 18k white gold and accented with a single round, brilliant diamond for the final touch.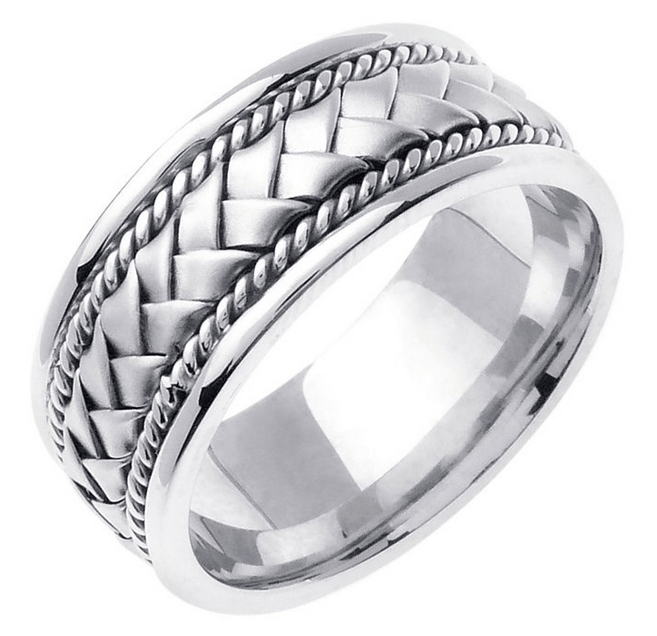 #3. 14K White Gold Braided Basket Weave Wedding Band (8.5mm) ($662-$712 @ Amazon.com)
This California handcrafted wedding band is woven from 14-karat white gold, containing 58.5 percent pure gold. A unique basket braid design offers an air of the utmost elegance. It measures 8.5 millimeters; although, it may be professionally altered half a size for a small fee.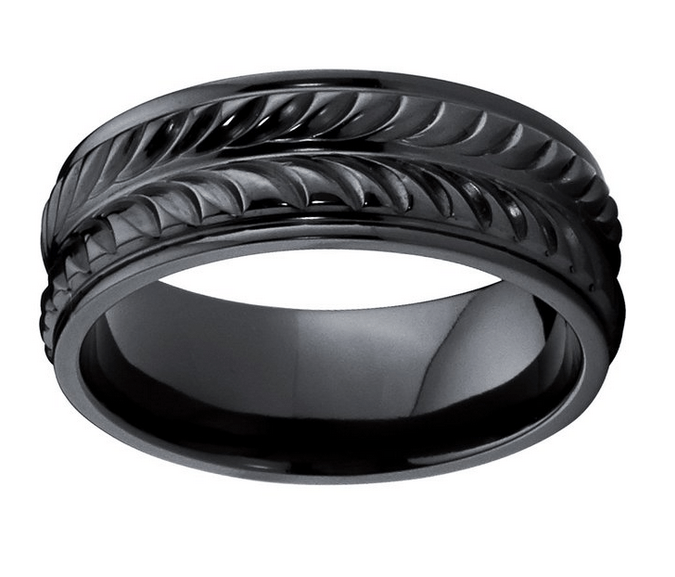 #4. 8MM Black Titanium Band with Carved Chevron Design, Comfort Fit ($27 @ Amazon.com)
Black-plated titanium boasts a handsome carved chevron design for this stylish ring. The material is both attractive and lightweight, including a free ring box and a 30-day money back guarantee with your order.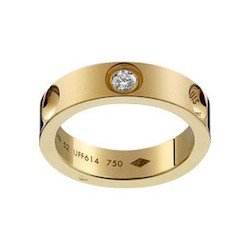 #5. Louis Vuitton's Small Empreinte Ring ($2,760)
The yellow gold with diamond is the perfect ring for the man that seeks that extra something. A modern interpretation of a timeless design, this ring features a single diamond and is engraved with the signature 'Louis Vuitton' trademark, making this one of the best wedding bands for men.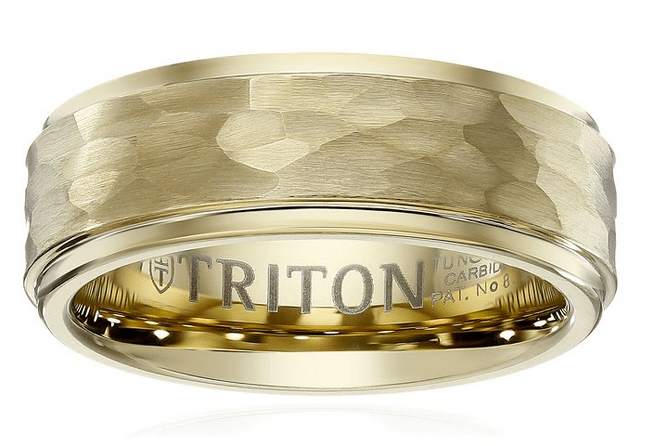 #6. Triton Yellow Tungsten 8mm Hammered Wedding Band ($300 @ Amazon.com)
Crafted using radiant hammered tungsten, the 8mm band features the word "Triton" boldly inscribed on the insides. Every order includes a free Triton bag for convenient storage.

#7. Edward Mirell Titanium with Stainless Steel Cable 10.75mm Wedding Band ($215-$220 @ Amazon.com)
This Edward Mirell ring band measures 10.75 millimeters in width. It is comprised of pure titanium along with a stainless steel cable to provide a truly distinctive design. Every purchase comes with a free gift box and a free laser engraving of up to 26 characters.

#8. Triton Black Tungsten 8mm Black Sapphire Wedding Band (1cttw) ($600 @ Amazon.com)
This black tungsten wedding band is inlaid with intricate sapphire gems to make for a mysterious exterior reminiscent of midnight skies. Triton's designer logo is branded along the
inside of each ring. Every purchase includes a custom Triton bag for quick and easy storage.
If you're looking for something masculine and refined, the Hearts on Fire Commanding Grey Titanium Band with Cable Band ($495) is for you. Sporting a single diamond and a cable band encased in platinum, this choice is certainly unique but retains classic qualities.

#7. Black Mossy Oak Breakup Camo Ring, 10MM Comfort Fit ($295 @ Amazon.com)
This 10-millimeter men's wedding ring of black zirconium is USA manufactured and polished to perfection. Its black mossy oak break up camouflage exterior hails from the revered KB Titanium Designs brand.

#8. Triton Tungsten 8mm Blue Camo Inlay Comfort Fit Wedding Band ($300 @ Amazon.com)
This Amazon Collection wedding band is crafted from glossy white-silvery tungsten. The center of the 8-millimeter ring takes advantage of a unique blue camouflage inlay. "Triton" is engraved along the sleek interior, the designer name alone ensuring the trinket is certain to please.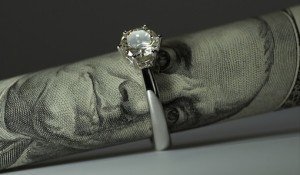 Want To Keep Reading? Try This: How To Get Back The Engagement Ring