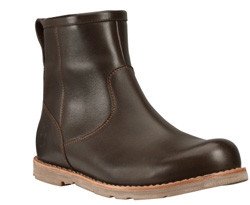 #4. Timberland — Earthkeepers Rugged Side-Zip Boot ($100 and up @ Amazon.com)
Timberland is known for their tough and durable boots, and the Earthkeepers Rugged Side-Zip boot does not disappoint. Aside from an easy slip on silhouette and waterproof upper, the lining is partially comprised of recycled plastic bottles making it a smart and responsible choice. Anti-fatigue comfort technology keeps your feet comfortable for all day wear even if it's all day spent walking between your desk and the water cooler.
Also: The best winter gloves for dudes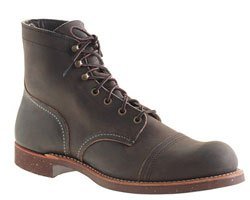 #5. Red Wing  Iron Ranger ($275 @ Amazon.com)
The Iron Ranger by Red Wing, made for J.Crew is rugged enough to wear while out doing manly tasks in your flannel-lined Carharrts, yet fashion forward enough to wear with a pair of straight-legged jeans while out on the town. Touting an oil-resistant sole and detailed stitching, the Iron Ranger looks as badass as it sounds. But despite being one of the best boots for men, we wouldn't recommend putting it to extreme tests, like dropping grisly bears or putting them on your hands and hiking to Mordor.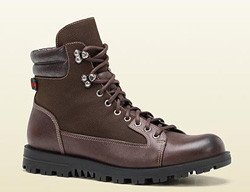 #6. Gucci Trek Boot ($400 @ Amazon.com)
When it comes to winter gear you should always choose function over looks. Well, unless you don't like staying warm and dry…in which case, you probably have hypothermia. With the Gucci Trek boot, you can have it all, as great looks meet high function. This Italian made boot boasts deep rubber lugs for excellent traction while the upper's leather and mesh design keeps the foot dry and snug. Plus, the green/red/green signature web loop pull shows just a hint of Italian pride.