Home
Posts tagged 'news fails'
Posts Tagged:

news fails
If you're trying to get one over on a huge multi-million dollar conglomerate, you'd better have your story straight.
An Austrailian TV anchor makes a bold fashion statement by wearing an enormous flesh-colored balls and wiener on her shirt.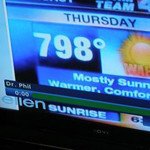 Unfaithful politicians, celebrities sexting, Justin Bieber living and breathing — news outlets salivate when airing mishaps of others. So let's celebrate their screwups.