Home
Posts tagged 'products'
Posts Tagged:

products
The SwingBox is an at-home golf apparatus that can help you go all Happy Gilmore from the tee this springtime.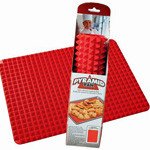 The Pyramid Pan drains fat from food and cleans up easy. But it couldn't save our oven-cooked steak since nothing can save steak cooked in an oven.
Check out what products work and which ones may be a waste of money.