Home
Posts tagged 'self defense'
Posts Tagged:

self defense
Dr. Geoffrey Thor Desmoulin, former co-host of Deadliest Warrior, schools us on the proper way to execute a headbutt.
Got two minutes to spare? Watch YouTube personality Master Ken blast a dude in the groin 100 times. You won't be sorry.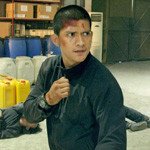 After watching The Raid 2 everyone is looking for a fight. But do you know fact from fiction when it comes to bare-knuckle brawls?