Home
Posts tagged 'things we learned'
Posts Tagged:

things we learned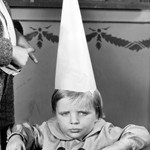 Time to see how much knowledge you've retained since graduating high school. Scores below 65% will require a parent's signature.
You might be shaking your head at The Donald's latest screw up, but that doesn't mean you shouldn't fill it with these valuable lessons he's taught us.
In honor of the 25th anniversary of the original Die Hard, we came up with 25 things the greatest action film of all time taught us.