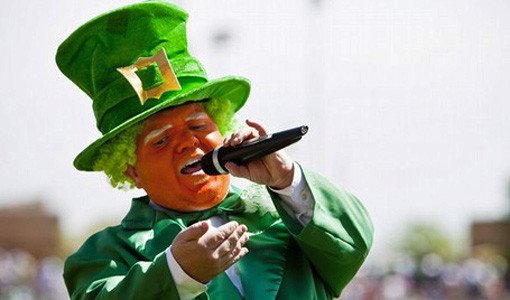 There are a lot of great things about Saint Patrick's Day: The opportunity to celebrate the arrival of Christianity in Ireland. Attending church services. Wearing a rakish but reverent green tie to those church services.
We're joking, of course. Whatever your feelings are about Saint Patrick's Day (It's a green-vomit-soaked amateur-hour nightmare. —Ed.), you can't deny the fact that there are some great Irish cocktails and beers you can enjoy. Plus, pretty much any thinking person — and non-misanthrope — loves a good leprechaun.
They're adorable. They dress smartly. They give you a bunch of money (and cereal packed with whole grain) if you harass them enough. And these are the lucky seven best of the bunch.
THE LEPRECHAUN
Over the course of six horror-ish movies between 1993 and 2003, The Leprechaun traveled everywhere from "the hood" to outer space. (Our personal favorite installment? Leprechaun 3, which took place in Las Vegas.) Plus, we assume the little guy saw Jennifer Aniston naked in the first movie. So it's no surprise that the Leprechaun franchise established quite a cult following, though it is a little surprising that Lionsgate/WWE Studios announced a 2-picture deal reboot scheduled for later this year. (Or maybe it's not all that surprising; read on …) Just don't expect any more movies starring Warwick Davis in the title role. Since the 3'6″ dude made his last appearance as the murderous little faerie, he's appeared in the Harry Potter movies and has starred in HBO's Life's Too Short, created by Ricky Gervais and Stephen Merchant.