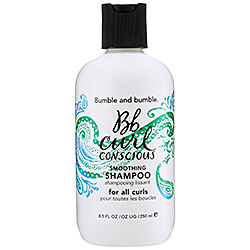 Bumble & Bumble Curl Conscious Smoothing Shampoo ($24)
If you often experiment with different hair colors, Bumble & Bumble is a good choice because it's specially designed to heal curly hair that has been chemically treated. This is the best shampoo for curly hair because as soon as your foot hits your bathmat, your curls begin taking shape.
"Curl Conscious assists in curl memory, smoothing dry strands into place," Brache says. This makes the styling process that much easier, lending a helping hand to any pomade or wax.
Redken Curvaceous Cream Shampoo for Curly & Wavy Hair ($18)
It may sound gross, but you need a certain amount of oil in your hair to keep it from drying out. That goes double for curly hair since it's naturally drier. This is part of the reason it's so important to buy products for curly hair specifically.
"This product hydrates and conditions the curls to keep them supple and shiny," Brache says. Curvaceous is a sulfate-free shampoo that is very gentle on hair. Sulfate-free is a prerequisite for any of the best shampoos for curly hair because sodium sulfate is a moisture thief.