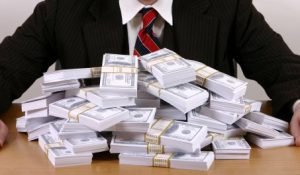 Everybody wants to know how much money everybody else makes — but nobody ever tells. And after reading PARADE Magazine's What People Earn survey, we know why.
It just pisses you off.
We waded through just a small portion of the more than 150 people PARADE featured, and we found plenty to be irritated about — both because some people earn far too little, and because other bozos make far too much. Oh, and by the way? The hack magician who performed at your nephew's birthday party probably earns more than you ….

Brian K. | Law Enforcement Trainee | Brook Park, Ohio | $22,000
We hope Mahoney, Hightower, and the rest of the cadets teach Brian how to dodge a bullet, because taking one for $22k would be a crime.



Bryan B. | FedEx Pilot | O'Fallon, Ill. | $148,000
Hey, Bryan deserves it, but many regional airline pilots earn less than $25,000 a year — and their cargo is people.






Dave C. | Astrologer | Phoenix, Ariz. | $177,000
That's funny. This morning our horoscope read, "Jupiter is rising in your Neptune house. Which means you'll feel sick to your stomach after finding out how much I make." Maybe astrology isn't total bullsh*t after all. (Just kidding. It absolutely is!)



Glenn Z. | Glassblower | Waterbury Center, Vt. | $60,000
Well, if you spend your life huffing molten glass, you should probably get hazard-style pay.






Graham P. | Ocean Lifeguard | Ocean City, N.J. | $7,000
Graham's job is to run barefoot on sand dotted with used hypodermic needles, leap into toxic water, and get smeared with Drakkar Noir and coconut oil as he drags drunk Jersey Shore extras to safety. He should earn more.




Joe D. | Mayor | Bowling Green, Ky. | $18,000
Yikes. We hope he's taking plenty of kickbacks.








Jeff O. | Magician | East Lansing, Mich. | $80,000
Does he know a trick that would help us forget that we know out how much money he makes?







Tara D. | Blogger | Vancouver, Wash. | $25,000
This is a travesty. After all, writing things on the Internet is the most important job in the world.







Sherri B.| Ghost Tour Operator | Summerville, W. Va. | $45,000
People pay her halfway decent money to tell bogus ghost stories while holding a flashlight under her chin. Now that's scary.






Frank S. | Plastic Surgeon | Las Vegas, Nev. | $1,000,000
Okay, so maybe you don't agree with the kind of doctor he is. But we can all agree that doctors deserve to be paid well for the (usually) valuable services they provide.





Karl W. | Free Clinic Doctor | Boise, Idaho | $0.00
The world is a terrible place.







Sara K. | Speech-Language Pathologist | Olympia, Wash. | $66,000
Hey, if her patients can pronounce her profession by the time she's through with them, she's worth every penny.




Steve C. | Meteorologist | Warwick, R.I. | $90,000
Getting it right about 30 percent of the time may not sound like something you should get paid almost $100K for, but keep in mind that baseball players make multimillions doing it.




Chris S. | Pageant Consultant | Elkton, Maryland | $12,000
If dudes like Chris are responsible for coaching contestants like 2007 Miss South Carolina, they are woefully underpaid.