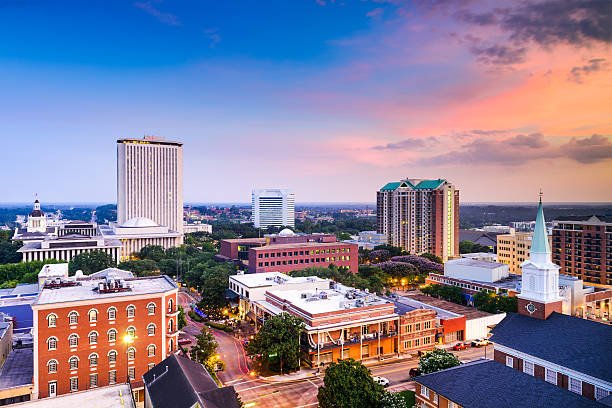 Living in Tallahassee, Florida, offers a unique experience filled with vibrant culture, beautiful landscapes, and a rich history. Whether you're a student, young professional, or retiree, this city has something for everyone. In this article, we will explore the ten best things about living in Tallahassee, from its thriving arts scene to its natural wonders and community spirit. So let's dive in and discover why Tallahassee is an exceptional place to call home.
A Historic Capital City
Tallahassee is not only the capital of Florida but also a city steeped in history. With its majestic architecture and charming neighborhoods, the city showcases its rich heritage. Visitors and residents alike can explore historic landmarks such as the Florida State Capitol, the Old Capitol Museum, and the Mission San Luis de Apalachee. The city's historical significance adds a touch of nostalgia and grandeur to everyday life.
Abundance of Outdoor Activities
One of the greatest advantages of living in Tallahassee is the wealth of outdoor activities available. The city boasts an extensive network of parks, nature trails, and green spaces. Residents can indulge in hiking, biking, kayaking, and fishing in the nearby Apalachicola National Forest or along the picturesque Lake Jackson. The breathtaking views and serene natural surroundings provide the perfect escape from the hustle and bustle of city life.
Education Hub
Tallahassee is home to some of the top educational institutions in the state, including Florida State University and Florida A&M University. The city's commitment to education is evident through its esteemed academic programs, renowned faculty, and research opportunities. As a resident, you have access to a wide range of cultural and intellectual events, fostering a vibrant learning community.
Thriving Arts and Culture Scene
If you appreciate art, music, and theater, Tallahassee will captivate you with its thriving arts and culture scene. The city hosts numerous art galleries, museums, and performance venues, showcasing both local talent and international exhibitions. The LeMoyne Center for the Visual Arts, the Tallahassee Museum, and the Florida Historic Capitol Museum are just a few of the cultural gems that enrich the city's artistic landscape.
Affordable Cost of Living
Compared to many other cities in Florida, Tallahassee offers a relatively affordable cost of living. Housing options range from affordable apartments to spacious family homes, making it an attractive destination for individuals and families alike. The reasonable cost of essentials such as groceries, healthcare, and transportation further contribute to a comfortable lifestyle without breaking the bank.
Diverse Culinary Delights
Tallahassee's culinary scene is as diverse as its population. From Southern comfort food to international cuisines, the city offers a plethora of dining options to satisfy every palate. Whether you're in the mood for traditional Southern barbecue, fresh seafood, or farm-to-table delights, Tallahassee's restaurants and food trucks will leave you spoilt for choice. Exploring the local food scene is an adventure in itself.
Close Proximity to Beaches
Living in Tallahassee provides easy access to the stunning Gulf Coast beaches. Within a short drive, residents can enjoy sun-soaked shores, white sandy beaches, and crystal-clear waters. Whether it's a weekend getaway or a day trip, nearby coastal destinations like St. George Island, Destin, and Panama City Beach offer endless opportunities for relaxation and water activities.
Strong Community Spirit
Tallahassee prides itself on its close-knit community and welcoming atmosphere. The city's residents actively engage in community initiatives, volunteering, and supporting local businesses. From farmers' markets to neighborhood festivals, there are plenty of opportunities to connect with fellow residents and form lasting friendships. The strong community spirit creates a sense of belonging and makes living in Tallahassee truly special.
Sports Enthusiast's Paradise
Sports enthusiasts will find their paradise in Tallahassee. The city is home to the Florida State Seminoles, a renowned college sports program that garners fervent support from its fans. You can immerse yourself in the electric atmosphere of college football games at Doak Campbell Stadium or cheer for the Seminoles in various other sports events throughout the year. The city's passion for sports is contagious and brings the community together.
Year-Round Festivals and Events
Tallahassee is a city that loves to celebrate. Throughout the year, the city hosts a wide array of festivals and events, catering to diverse interests. From the Tallahassee Film Festival to the Springtime Tallahassee Parade and the Downtown Getdown concert series, there's always something happening. These events foster a vibrant social scene and provide opportunities to experience the city's cultural diversity.
Considering Living in Tallahassee, FL?
If you are contemplating a move and considering living in Tallahassee, FL, you are in for a treat. Tallahassee offers a myriad of opportunities and attractions that make it an enticing place to call home. With its rich history, vibrant arts scene, and abundance of outdoor activities, living in Tallahassee provides a unique and fulfilling lifestyle.
Whether you're a nature enthusiast, a cultural connoisseur, or someone seeking affordable living, Tallahassee has something for everyone. From exploring the beautiful parks and trails to immersing yourself in the city's thriving arts and music scene, living in Tallahassee opens up a world of possibilities. With its warm climate, friendly community, and strong educational institutions, it's no wonder that more and more people are considering Tallahassee as their next home.
Why You Need a Reliable and Efficient Moving Service in Tallahassee, FL
Moving can be a challenging and overwhelming process, but with the help of a reliable and efficient moving company in Tallahassee, FL, the transition becomes much smoother. Whether you're moving within the city or relocating from another state, Elite Movers is here to assist you every step of the way.
With their expertise and attention to detail, they ensure that your belongings are handled with care and delivered safely to your new home. From packing and loading to transportation and unpacking, Elite Movers takes the stress out of moving, allowing you to focus on settling into your new life in Tallahassee. Their team of professional movers is experienced, reliable, and dedicated to providing exceptional service. So, when it comes to your next move, trust Elite Movers for reliable and efficient moving services in Tallahassee, FL, and make your transition a seamless one.
Is Tallahassee a safe city to live in?
Tallahassee has its share of crime like any other city, but it also has safe neighborhoods and proactive law enforcement efforts to ensure residents' safety.
How is the job market in Tallahassee?
Tallahassee's job market is diverse, with opportunities in government, education, healthcare, and technology sectors. The presence of universities and state government agencies contributes to the employment landscape.
Are there good schools in Tallahassee?
Yes, Tallahassee is known for its excellent educational institutions, including Florida State University and Florida A&M University. The city also has reputable public and private K-12 schools.
What is the weather like in Tallahassee?
Tallahassee experiences a mild climate with hot summers and mild winters. It's known for its abundant sunshine throughout the year.
Are there any family-friendly activities in Tallahassee?
Absolutely! Tallahassee offers numerous family-friendly activities, such as the Tallahassee Museum, the Challenger Learning Center, and the Tallahassee Automobile Museum, providing entertainment and educational experiences for all ages.