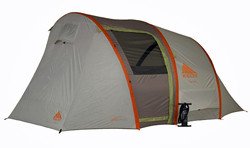 Kelty Sonic 6 Tent ($300)
Tent poles are the worst. They're impossible to put up and there's always that off-chance that they'll snap and jab you in the eye. This three-season tent (it's not meant for hardcore winter camping) uses an inflatable support system instead. It comes with a compact pump that allows you to set it up in just a couple minutes. It has everything you'd expect from a good tent, like taped floor seams for comfort, silent zippers, and fly vents. Then, when you're done, you pull the cork on the air poles and the whole things flattens out for easy transport.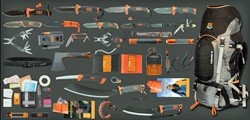 Gerber Bear Grylls Ultimate Pack ($950)
In this kit, think of the Bear Grylls Commando 60 survival backpack as a big stocking. It's stuffed with every single product in the Bear Grylls Gerber collection. It has fixed-blade knives, folding knives, flashlights, machetes, tape, multi-tools, a head-lamp, a hatchet, a paracord bracelet, a first aid kit, and everything else you could possibly need to survive just about anything. There's even a canteen you can fill with water so you won't have to go all Bear Grylls and drink your own pee. At least, not right away.

GoBites Custom Trail Mix ($28)
GORP (Good Old Raisins and Peanuts) has been a camping staple forever, but we're capable of so much more. GoBites has a dedicated nutrition team that can take your specific tastes and requirements and turn it into a custom trail mix that will obliterate the big bags you get at the department store. You can get up to 14 different ingredients in each box, choosing from dried fruits and a wide variety of nuts. Then, you can set it up on a recurring schedule for delivery if you want, thus reducing the chances you'll run out on a hike and need to eat your partner.