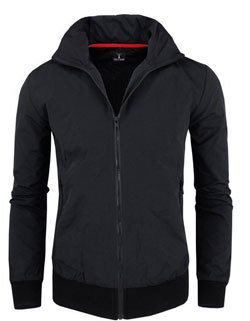 A sweatshirt doesn't have to leave you looking a frumpy butterball who squeezed himself into a blanket weaved into a pullover. In fact, some sweatshirts can actually complement or even enhance your style while keeping you warm during chilly weather.
That said, when you want to relax at home and sip on a few beers and binge on Netflix, it's good to have a go-to cozy sweatshirt for that, too — one that can totally make ou look like a frumpy butterball. Point is, you have options when it comes to men's sweatshirts. And we found plenty of solid choices for you. From layering up to looking stylish and cool, these six sweatshirts will do just that …
The Best Men's Sweatshirts For Winter
Tom's Hidden Hoodie is more of a windbreaker than a super warm sweatshirt, which makes it great for layering on the slopes or for wear under a heavier winter coat. One thing to keep in mind — the slim-fit cut will be best suited for a slender dude. So if you're carrying some extra winter weight, opt for something that won't be as snug.
Constructed of 50 percent polyester and 46 percent cotton, the relaxed fit of Alternative's crewneck sweatshirt provides a layer of warmth as you power through your day. We've had a few articles of clothing sent our way over the years and we've never been disappointed. Each article — from T-shirts to sweatshirts to tank tops — has been soft and comfortable. This sweatshirt features a lightweight design, it functions perfectly as a layering piece but can be worn alone just as well. Available in a variety of colors, this Eco-fleece shirt is apparel you can feel good about wearing.