Back in the day, the robe served one primary function: warmth after showers on winter days when you feared your penis and nips would turn into ice shards. And it was for old people—it's what your dad tossed over his gross body to cover up his pee-stained boxers. But over the past few decades, the good ole' robe has undergone a transition.
Also: Awesome Skeleton Watches For Men
Hugh Hefner gave it new meaning when he was seen sporting his infamous red silk robe, helping to redefine the robe as a symbol of leisure, relaxation and style. This guide to the best robes for men highlights some chic and comfortable selections, so that you too can lounge in style (note: Playmates not included).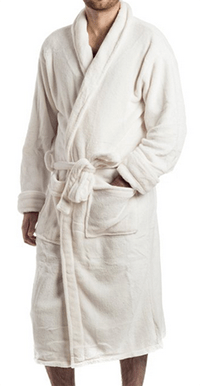 #1. Wanted Men's Micro Fleece ($17-$25 @ Amazon.com)
Slip into a polyester100 percent robe after a shower and it'll soak up excess water droplets while making your skin feel all comfy-womfy. We're terribly sorry for using that phrase. Anyway, dual pockets and a belt closure cap off this one-size-fits-all bathrobe.









#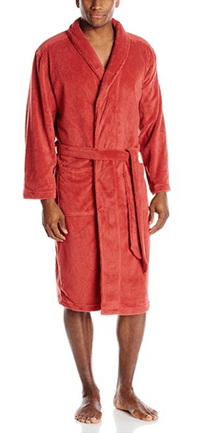 2. IZOD Men's Plush Robe ($45 @ Amazon.com)
If you're looking to score one of the best robes for men you're going to need to fuse style and comfort; the IZOD Men's Plush Robe does just that with two side patch pockets and soft, polyester fabric. What's more, it's washer-friendly — a huge plus.











#3.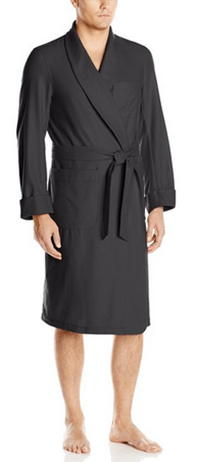 Pendleton Men's Lounge Robe ($55-$198 @ Amazon.com)
It's lightweight but will keep your toasty when necessary. The foldable cuffs, V-neck collar, and front pockets also add to its style. Also, you can feel good about lounging around in an American-made robe made from virgin wool. Sucks the sheep never had sex though.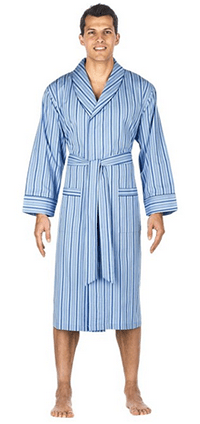 #4. Noble Mount Men's Cotton Robe ($35 @ Amazon.com)
Made with 100% cotton, the Noble Mount Men's Cotton Robe has a V-neck rounded collar and easy to reach front pockets. The trim sewn to the edges of the collar, front, sleeves, and pockets gives this robe a polished look. The tie belt feeds through loops at the waistline. This attractive robe is considered one of the most comfortable robes for guys.










#5. Del Rossa Cotton Sweatshirt Style Hooded Bathrobe ($60 @ Amazon.com)
The Del Rossa Men's Cotton Sweatshirt Bathrobe is made with fabric that is 65% polyester and 35% cotton. One of its best features is the attached hood. The bottom of this robe falls below the knee and above the ankle. Comfortable robes for guys like this are just too hard to find.