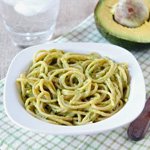 Good recipes for guys can be prepared with a minimum of fuss and can be fancied up to impress a date or dumbed down to where you can handle them when you're dead on your feet.
ALSO: Making This Dessert For Your Woman Will Up Your Odds Of Getting Laid
Make sure that you know how to make a good pasta dish. This goes beyond dumping spaghetti sauce on a plate of noodles. Instead, learn how to make a quick cream sauce. A great Alfredo only requires milk, butter, cream cheese, and garlic powder all mixed together and stirred gently to prevent scorching.
Consider how to throw together a semi-filling salad. Start with a bag of romaine lettuce, and add a bit of whatever's in your kitchen. A cup of chopped tomatoes, a sprinkling of cheese and a handful of cubed chicken gives you a great salad. To make it a little fancier, consider throwing in a handful of fresh fruit and cheese. If you really want to impress someone, consider making your own vinaigrette, which is really just a mix of oil and vinegar.
ALSO: Lesser-Known Ways Mother Nature Gets You High
The truth is that recipes for guys are easier than you might think. Start by finding a recipe that you think you can handle and go from there. Make the recipe according to the book once, and then start experimenting!