Everyone who's ever tried to build something, be it a hut from sticks and moss or a full-fledged house, knows the importance of the connecting component. A bunch of assembled items is not yet a unified and functioning construction. A duct tape is well known for its incredible ability to fix and bring together all items on this plane of existence, but the question is how functional the complete device turns out to be. It is definitely not the best solution for scopes since there are items designed specifically to keep the optics attached to your rifle. Those items are called scope mounts.
This term is used very broadly to denote almost every piece of a mounting system as well as the whole construction. But in the majority of cases, it implies a one-piece set of two rings, unified by a single platform that is mounted atop of the base or rail. They are often compared with two-piece rings as they serve the same purpose: to hold the scope in place, tightly and reliably. Scope rings are usually lighter and cheaper but need to be aligned to avoid tilting. Scope mounts, on the other hand, are already aligned since they are affixed to the same platform but tend to be heavier and more pricey. They can also obstruct the ejection port of your rifle, so choose depending on what type of firearm you have and how eager you are to align those pieces yourself.
Every item is always advertised to be just what you need. There are thousands of different scope mounts out there and hundreds of those that deserve your attention. There is no mount to fit them all. When choosing a mount, you need to consider the scope tube diameter and your base style. We offer you to take a look at the 7 best scope mounts that are the best simply because they are good at what they do.
Aero Precision Ultralight 30mm Scope Mount, 2-Pack (APRA210600-2Pk)
Ring Diameter: 30mm
Material: Aluminum
First to open our top, this Aero Precision scope mount has several features that might catch your eye. The rear ring is placed 2 inches further to provide better eye relief, which comes in very handy for AR users. This mount is designed to fit upper receivers with Mil-Spec Picatinny rails. Usually, rifle scope mounts weigh more than rings due to the platform that unites two pieces, but with only 3.36oz of weight this mount can compete for the title of 'the lightest of them all.' Cross-slot keyway boosts the scope's stability against recoil. Featuring 6061 T6 extruded aluminum construction and an anodized black finish, which increases the mount's resistance to corrosion, this piece will make for a great holder for 30mm scope tube optics.
Leupold Mark AR 1in 1-Piece Matte Black Scope Mount (177093)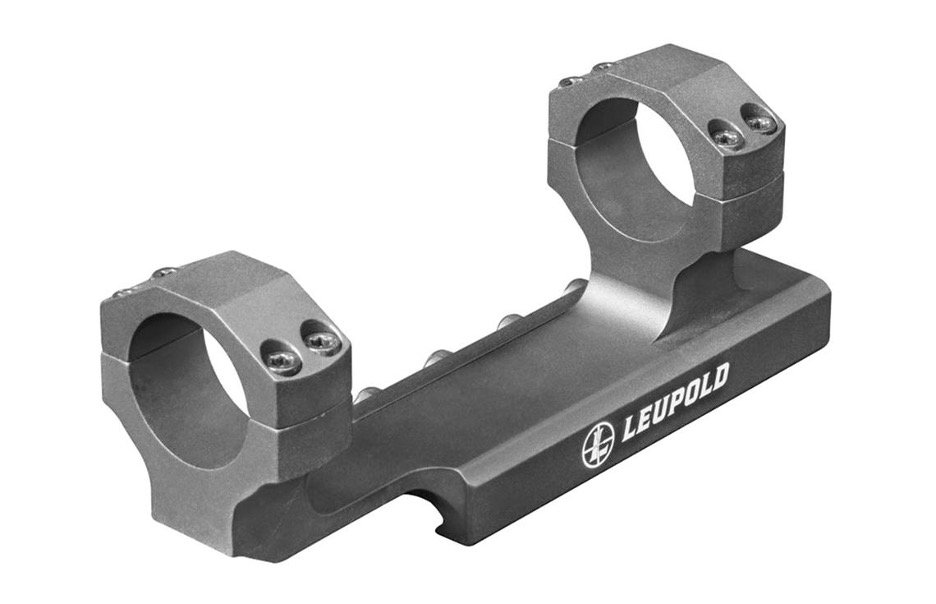 Ring Diameter: 1in
Material: Aluminum
This mounting system is a member of Leupold's tactical Mark AR family of mounts, which spare users two main issues that come with mounting: determining the right height and calculating the eye relief. This model solves both of those problems and does so with unmatched simplicity. The 5-bolt design combined with 3 lugs on the bottom allow the scope to resist any degree of recoil, while constantly maintaining zero. Scope rings sit as high as 1.4 inches and the whole construction weighs about 5.8oz. They are designed to fit Picatinny rails and scopes with a tube diameter of 1in. If you are already acquainted with Leupold through their optics, there is no need to tell you how reliable they are and how they excel in everything they do. Scope mounts are just another chance to make sure one more time.
BKL Long Cantilever 1in Dovetail Scope Mount (253-MB)
Ring Diameter: 1in
Material: Aluminum
If you are looking for a reliable scope mount that will fit 11mm or 3/8in Dovetail rails, consider your expedition over. Designed to fit 1-inch scope tubes, this mount is made from high-performance aluminum, which makes the construction robust without throwing additional bulk on your hands. One-piece design provides enough flexibility to adjust eye relief. This is the most versatile of BKL scope mounts and pure 4.4oz of durability and reliability. The bundle includes 9/64 Allen Wrench.
NIGHTFORCE XTRM Duty Ultralite 1.5in 0 MOA 34mm Unimount (A497)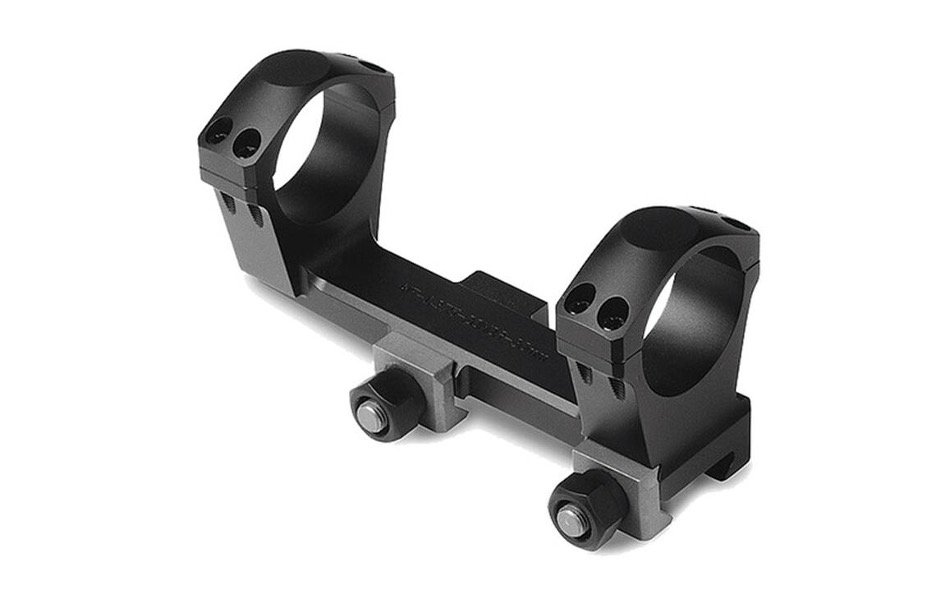 Ring Diameter: 34mm
Material: Aluminum
NightForce proved themselves to be a dedicated producer of optics and optical accessories, mounts included. The CNC machined hard aluminum body is combined with titanium crossbolts and jaws to bring the toughness of steel at half the weight. The construction allows for easy removal and installation on various guns, so versatility is yet another benefit of this scope mount. Precise tolerances protect the scope against stress and bending when the ring screws are tightened. With the ring height of 1.5in, this is the best mount for attaching 34mm scope tube optics to weapons with Picatinny rails.
BURRIS AR-P.E.P.R. QD 1in w/Picatinny Tops Scope Mount (410344)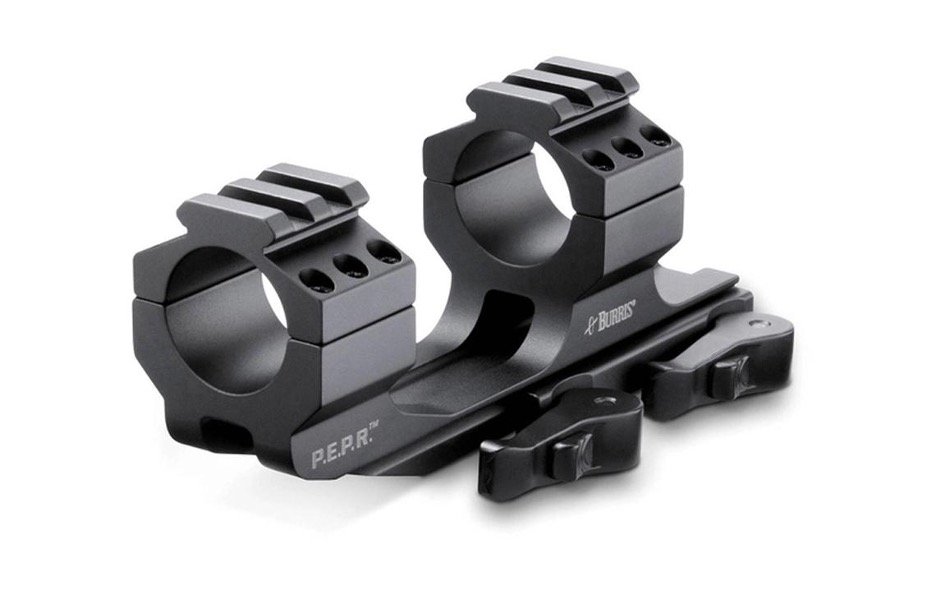 Ring Diameter: 1in
Material: Aluminum
Burris is well known for quality optics, but their scope mounts don't lag behind either. This mount model is optimized for AR firearms with Picatinny rails. The rear ring is placed two inches further, providing the necessary clearance and eye relief. The mount raises your scope as high as 1.5 inches and fits the scope with a tube diameter of 1 inch. Two Quick Detach levers allow for easier change of optics or stitching to regular iron sights. If you need a fast-to-detach mounting system, this is a worthy option.
WARNE Gen2 Extended Skeletonized 1in Black Mount for MSR (XSKEL1TW)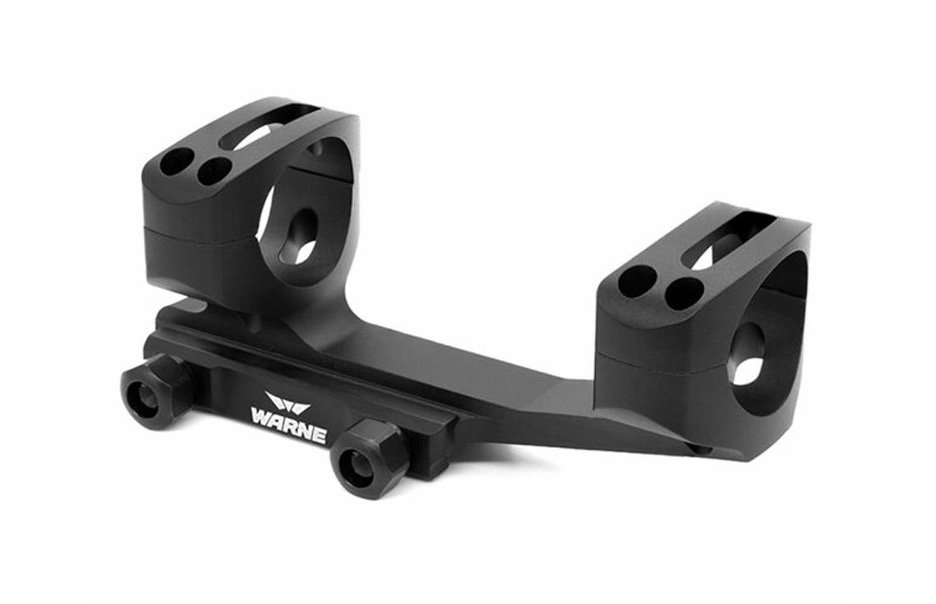 Ring Diameter: 1in
Material: Aluminum
This is the lightweight scope mounting solution your 1in scope needs. This mount was designed specifically to place the optics on the optimal height for modern sporting rifles.CNC machined aluminum body, steel hardware, and threaded inserts together make for a lightweight and rigid mount. It retains your scope at zero, not allowing recoil or any other impact to affect its positioning. The extra cantilever ensures additional eye relief for scopes with larger eye boxes. Anodized Cerakote Finish is the cherry on the top of this celebration of precision and robustness.
Scalarworks Leap/ 30mm Scope Mount (SW0700)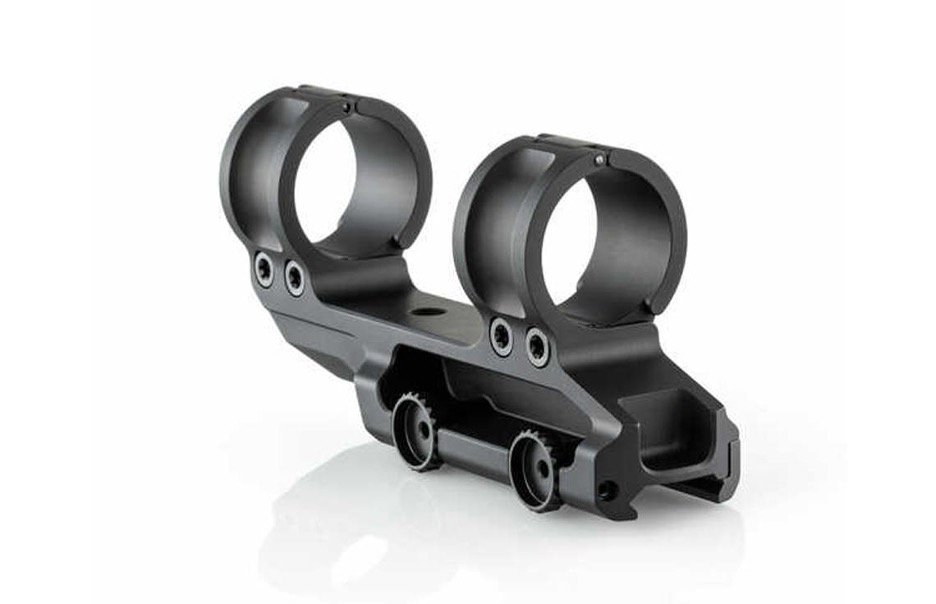 Ring Diameter: 30mm
Material: Aluminum
The final chord of our Mounting symphony, this Scalarworks Leap mount is an outstanding high-performance piece of equipment. Combining tubular boom with an I-beam bridge, the engineers achieved the ultimate rigidity and resistance to impact, while keeping it as light as possible. This mount features both 7075-T6 aluminum and 4140H steel. Such a combination brings the construction strength to a new level. Each side of the rings is lightened with a curvature scallop to further maintain strength-to-weight balance. The quick-detach mechanism is recoil proof and self-adjusting. This is genuinely one of the best options for 30mm scopes.