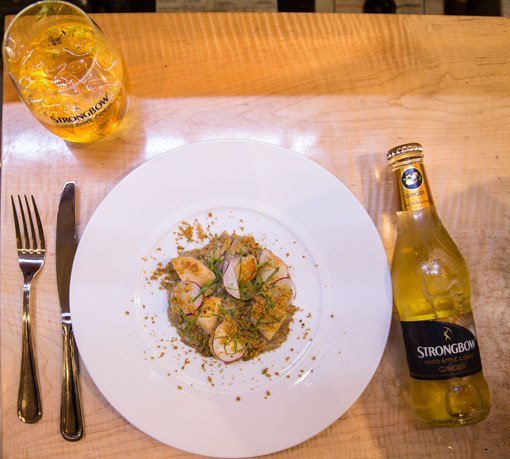 Strongbow Cider racked up a Best Tasting Common Cider award from theBeverage Testing Institute. As for the difference between a common cider and a not-so-common cider, I have no idea. But I presume a not-so-common cider is one that's made from non-GMO apples that were imported from Mars.
Doesn't matter because the award gave the folks at Strongbow a valid reason to host a gala for VIPs drunks media types and/or guys who write about booze in New York City catered by Chef Wylie DuFresne.
What did I drink, you ask? Why, Strongbow ciders, of course! And how did those boozy ciders taste? Great question! Flavorful and refreshing, young sir!
And that's true, but hard ciders are also high in sugar, which made us limit our intake. Our favorite Strongbow flavor, Ginger, only had 170 calories per bottle, but also came with 20 grams of sugar. So pounding them would likely have left us feeling bloated. Since I wasn't adding them to cocktails — which is something I've done and would recommend —  I kept to a slow-and-steady pace and tasted the Strongbow rainbow — Red Berries, Ginger, Gold Apple, and Honey — while I ate.
DuFresne, known for creating intricate (and goddamn delicious) dishes using a molecular gastronomy method of cooking. In short, the technique fuses science and cooking. So imagine your nerdy middle school science teacher used his eyedroppers and beakers to create something tasty instead of something that made you want to gouge your eyes out with a No. 2 pencil.
Here's what DuFresne whipped up for us:
Amuse Bouche: Butternut squash soup with bacon and pumpernickel
Appetizer: Scallops with orzo, smoked mushroom, brown butter, tarragon
Dinner: Lamb loin with barley, hibiscus date, aged goat cheese
Desert: Bay leaf ice cream with chewy brownie bites and yuzu fluff
DuFresne even used Red Berries in his hibiscus sauce. How did it taste with the lamb? I can't tell you. I'm a diva vegetarian that wouldn't sink my canines into the savory and delicious-looking meat that was prepared by a top-notch chef and sat a handful of inches below my bulbous nose. However, when I licked it off of my filthy index finger, the sauce tasted excellent.
Afterward I spoke to the chef about his use of Strongbow in sauce:
"We took six bottles [of Strongbow Red Berries] and reduced it to syrup," DuFresne said after dinner. "So, we were misusing the product, but I'd argue that that's what Strongbow does, too. I've had cider in other places like in England, and there was no ice in it. But Strongbow puts theirs on ice and it has helped separated their brand [from their competition] … and it's clearly working for them."
Man, I was  way off. Our guess was that the flavor was the thing that's helped Strongbow gain a following. But what do I know?
Also Read: 4 Easy-To-Make Strongbow Cider Cocktails
Trust us, they're delicious.