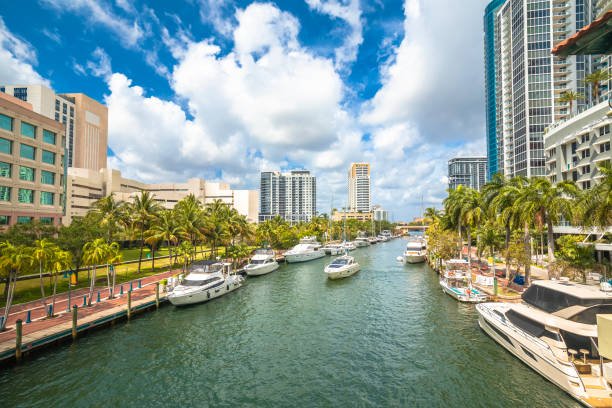 Miami and Fort Lauderdale are two vibrant cities located in the beautiful state of Florida. Both cities offer a plethora of attractions, activities, and amenities that make them desirable destinations for tourists and potential residents alike. In this comprehensive guide, we will explore the unique qualities of each city, compare their advantages, and help you decide which one suits your preferences better.
Overview of Miami
Miami is situated on the southeastern coast of Florida, bordering the Atlantic Ocean. Its tropical climate, with warm winters and hot summers, attracts visitors from around the world. The city boasts stunning beaches, such as the iconic Miami Beach, where you can soak up the sun, swim in the turquoise waters, or engage in water sports like surfing and paddleboarding. Additionally, Miami is renowned for its vibrant nightlife, with numerous clubs, bars, and restaurants catering to all tastes.
Advantages of Miami
Beaches and outdoor activities
Miami is synonymous with beautiful beaches. From the popular South Beach with its lively atmosphere to the serene Crandon Park Beach, there's a beach for everyone. Moreover, the city offers ample opportunities for outdoor activities like hiking, biking, and exploring the Everglades National Park.
Cultural diversity and vibrant nightlife
Miami is a melting pot of cultures, with a large Hispanic and Caribbean influence. This diversity is reflected in the city's cuisine, festivals, and art scene. At night, the city comes alive with its world-class nightclubs, live music venues, and energetic street parties.
Food and dining options
Miami is a food lover's paradise, offering a wide range of culinary delights. You can savor delicious Latin American cuisine, fresh seafood, and international flavors. The city also hosts the renowned South Beach Wine and Food Festival, attracting food enthusiasts from all over.
Overview of Fort Lauderdale
Located just north of Miami, Fort Lauderdale is often referred to as the "Venice of America" due to its extensive canal system. The city's subtropical climate and stunning beaches make it a popular destination for sun-seekers and water enthusiasts. Fort Lauderdale is also known for its upscale shopping districts, cultural attractions, and vibrant downtown area.
Advantages of Fort Lauderdale
Beaches and water sports
Fort Lauderdale boasts picturesque beaches, including Fort Lauderdale Beach and Las Olas Beach, where you can relax, swim, or take part in water sports like jet skiing and snorkeling. The city's proximity to the Gulf Stream offers excellent opportunities for deep-sea fishing and diving.
Boating and yachting opportunities
With its extensive network of canals and marinas, Fort Lauderdale is a boater's paradise. The city hosts the annual Fort Lauderdale International Boat Show, one of the largest boat shows in the world, attracting boating enthusiasts from all corners.
Shopping and entertainment
Fort Lauderdale offers a diverse shopping experience, from luxury brands on Las Olas Boulevard to the vast Sawgrass Mills outlet mall. The city also has a thriving arts and entertainment scene, with theaters, museums, and galleries showcasing local and international talent.
Miami vs. Fort Lauderdale: Which is better?
When choosing between Miami and Fort Lauderdale, it ultimately comes down to personal preferences and lifestyle choices. Here are some factors to consider:
Comparison of lifestyle and atmosphere
Miami is known for its fast-paced, cosmopolitan lifestyle, while Fort Lauderdale has a more relaxed and laid-back vibe. Miami offers a vibrant nightlife and diverse cultural experiences, while Fort Lauderdale provides a quieter, family-friendly environment.
Cost of living and real estate market
Miami generally has a higher cost of living compared to Fort Lauderdale. Real estate prices in Miami can be steep, especially in desirable neighborhoods like South Beach. Fort Lauderdale, on the other hand, offers more affordable housing options while still maintaining a high standard of living.
Accessibility and transportation
Both cities have international airports, making them easily accessible to travelers. Miami has a more extensive public transportation system, including Metrorail and Metromover, which can help alleviate traffic congestion. Fort Lauderdale, although smaller, has a convenient water taxi service that allows residents and visitors to navigate the city's canals.
Final Thoughts on Fort Lauderdale vs Miami
In conclusion, Miami and Fort Lauderdale are both exceptional cities with unique qualities and attractions. Miami's vibrant beaches, cultural diversity, and thriving nightlife make it a dynamic destination for those seeking excitement and a fast-paced lifestyle.
Fort Lauderdale, with its beautiful beaches, boating opportunities, and relaxed atmosphere, appeals to those looking for a more tranquil and family-friendly environment. Whether you choose Miami or Fort Lauderdale, you're bound to experience the best of what South Florida has to offer. And if you are planning on moving from Fort Lauderale to Miami, you should consider hiring expert local movers from Fort Lauderdale.
Is Miami more expensive than Fort Lauderdale?
Miami generally has a higher cost of living compared to Fort Lauderdale. Housing prices and dining options in Miami can be pricier, while Fort Lauderdale offers more affordable alternatives.
Which city has better beaches?
Both Miami and Fort Lauderdale have stunning beaches, but the atmosphere differs. Miami's South Beach is famous for its energetic vibe and vibrant crowd, while Fort Lauderdale's beaches offer a more relaxed and family-friendly environment.
Can you visit Miami and Fort Lauderdale in one trip?
Yes, Miami and Fort Lauderdale are located close to each other, making it convenient to explore both cities in one trip. They are approximately a 45-minute drive apart, depending on traffic.
What are some popular attractions in Miami?
Some popular attractions in Miami include the Art Deco Historic District in South Beach, the vibrant neighborhood of Wynwood with its street art, the iconic Bayside Marketplace, and the historic Vizcaya Museum and Gardens.
Are there any annual events in Fort Lauderdale?
Fort Lauderdale hosts various annual events, including the Fort Lauderdale International Boat Show, the Fort Lauderdale International Film Festival, and the Seminole Hard Rock Winterfest Boat Parade.