the latest
13 Awesome Behind-The-Scenes Pics From Classic Horror Movies
Go behind the scenes of The Shining, Pet Semetary, and some of your favorite classic horror films!
4 Simple Ways To Refresh Your Beard For Springtime
These grooming products will help spruce up the appearance of your facial hair and/or tame an out-of-control face bush.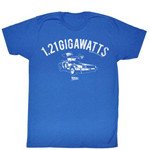 9 Great Things For Back To The Future Fanatics
If you're a fan of the Back to the Future trilogy, owning George McFly's journal, classy DeLorean wall art, and a light-up Flux Capacitor might pique your interest.