the latest
Dude, Your Girlfriend Will Seriously Love A Coobie Bra
Coobie sent us a bra. We were going to wear and review it as a joke. We never did. Then we gave it to a woman, and she loved it. Joke's on us.
Scientists: Zippers Are Bad For Penises
In the past 10 years, more than 17,000 dudes have gone to the ER because they injured themselves with their pants zipper.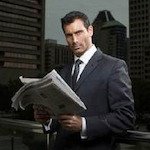 So, What Is Proper Business Attire?
Your supervisors dictate what proper business attire is, but new research claims that people who dress more formal than their coworkers are more creative.