Fillmore Winterproof Pants ($169)
These pants were created in collaboration with the Mo'Better skateboarding company. So why should you, who hasn't set foot on a skateboard since Homer Simpson attempted to leap Springfield Gorge on one back in 1990, wear these pants? They're cool, comfortable, and waterproof. So — whether you're stuck in a monsoon or snowstorm, or you've simply had too much to drink — you'll stay dry.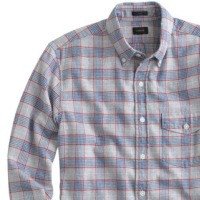 J. Crew Slim Brushed Twill Shirt in Authentic Red Check ($75)
Rugged and reliable, this slim-fitting twill shirt will keep you warm during winter's bitterest months. It's versatile enough for happy hour, a holiday party, or a trip to happy hour before your insufferable holiday party.