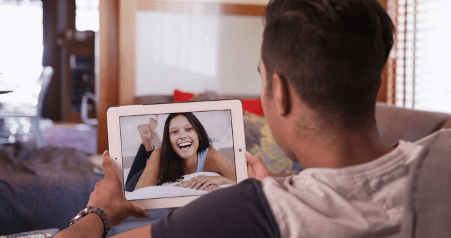 Let's face it, long-distance relationships are hard. You don't get to see your loved one whenever you want to and you don't get to experience everyday life together.
But, all that time apart does make the heart grow fonder. In fact, around 58% of long-distance relationships are successful. But, only if both partners are willing to put a little extra effort into making the relationship work.
Keep reading to discover some of the top things to do in a long-distance relationship.
1. Movie Night
If you're in a long-distance relationship, you're well aware that most couples take even the most routine activities for granted. A movie night is one of the many experiences that doesn't have to be forgotten just because you aren't physically together.
Choose a movie that both you and your partner have been wanting to see. Pick a time for you to watch it together, each from the comfort of your own home. Then, plan to be on video call during the movie so you can see each other's reactions to the movie and talk about the plot.
Don't forget about the movie snacks! Have each person schedule a food delivery surprise for the other person. Buy them a special dinner or their favorite snack for them to eat during the movie night.
2. Get Intimate
One of the top long-distance relationship tips is to take the extra time to get intimate even when you're apart.
A few of the best intimacy ideas include:
Setting up a risque video call
Sharing intimate photos and messages throughout the day
Gifting each other remote control toys
Just because you aren't physically together, that doesn't mean you can't be intimate. Schedule a few times during each week for intimacy so that you don't miss out even with busy schedules.
3. Plan a Trip Together
Find yourself wondering "Is long distance worth it?" lately? If so, it's time to plan a trip together to see if the in-person spark still exists.
Depending on how far apart you and your partner live, you may not get in-person time very often. To make that time even more special, start planning out your next trip months or weeks in advance.
Together you can decide where you'll stay, what activities you'll do, where you'll eat, and everything else in between. Don't forget to schedule in a few lazy days for intimacy purposes! You and your partner will have fun planning out all the details and getting excited about your upcoming trip.
Discover More Things to Do in a Long-Distance Relationship
These are just a few of the things to do in a long-distance relationship. Just because you and your partner don't see each other frequently, that doesn't mean your relationship needs to suffer.
Instead, try out all of the different things from this list together.
Looking for more ways to spice up your love life? Visit the Love & Sex section of this site for all the best advice.