LeBron James' new carbon-fiber mask looks … interesting. Lots of people on the Twitter and Facebook thought so, anyway. And if you hate it, get used to it. James will wear it for the next few weeks while his broken nose heals.
We think it looks cool, actually. Especially when you take a look at some other masks out there. Some are even worn in public or during sex. (When else would one wear a Creepy Baby Mask?)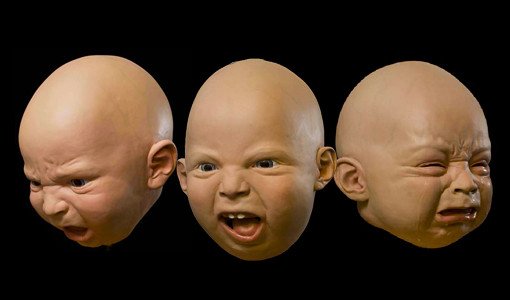 #1. CREEPY BABY MASKS
Have a rich aunt or uncle you're looking to send to an early grave? Peer through their window wearing one of these and a soiled diaper (if you're going to play the part you have to go all in). Each mask costs $350, but the return on investment will be well worth it.
#2. GAS MASK
The two main purposes these masks serve? Clearly one is filtering airborne pollutants and deadly toxins from the air, and the other is causing those who witness someone wearing it to piss themselves. However, slight modifications can change the perception drastically …