A bedroom and storage solution is much more than just a place to sleep today. They are synonymous with modern, integrated spaces offering people a variety of needs and adding value to their lives.
Therefore, many options are available when choosing the right bed for the house's space and needs. Whether you're looking for something minimalist or something with built-in hidden storage, you'll find plenty of opportunities to suit your tastes and needs.
With so many storage beds on the market today, knowing which one best suits your needs can be challenging. To help you make this critical decision, we've listed a few standard storage beds on the market today.
First, you should consider some storage bed brands, such as IKEA.
If you like the look of IKEA storage beds, you can personalize your storage bed even more by adding your storage containers. An IKEA storage bed is a standard bed frame with no drawers or cabinets and no drawers, but it can be easily customized to include built-in storage. You can purchase frame panels for easy addition to your storage containers, or you can add wood panels. Some people even add a metal grid rack to make a storage space.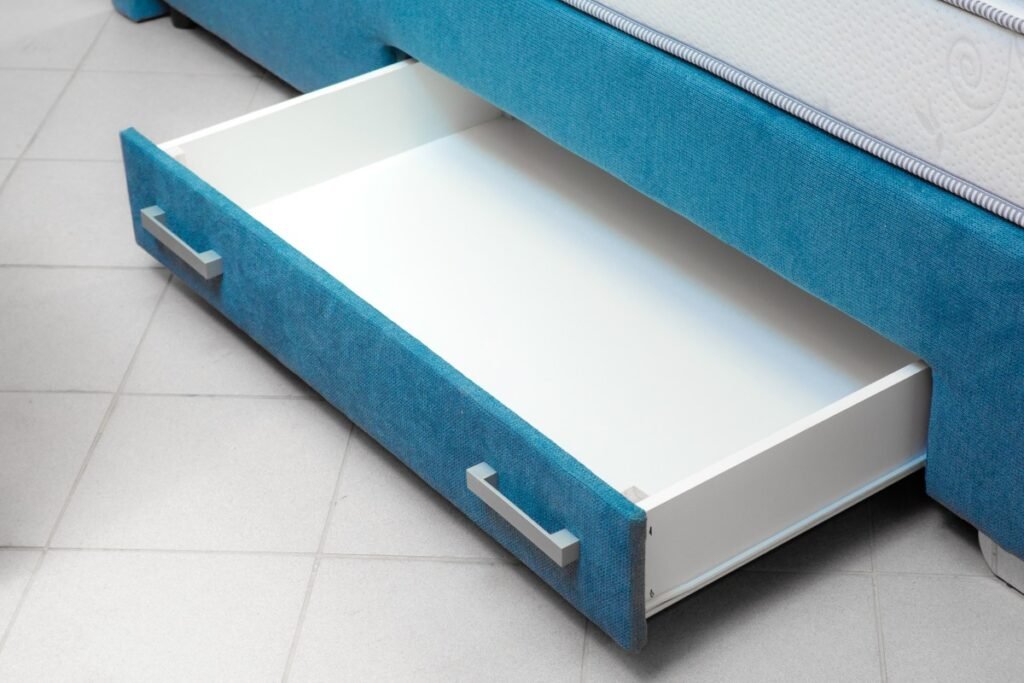 Bed Frame with Headboard Storage
A bed frame with headboard storage is an excellent option if you like the look of a headboard and like to add storage space to your bedroom. These types of bed frames are perfect for those who have smaller bedrooms and need a lot of storage space. You can use them to store everyday essentials like books, clothes, and toiletries. You can even use them to store more oversized items.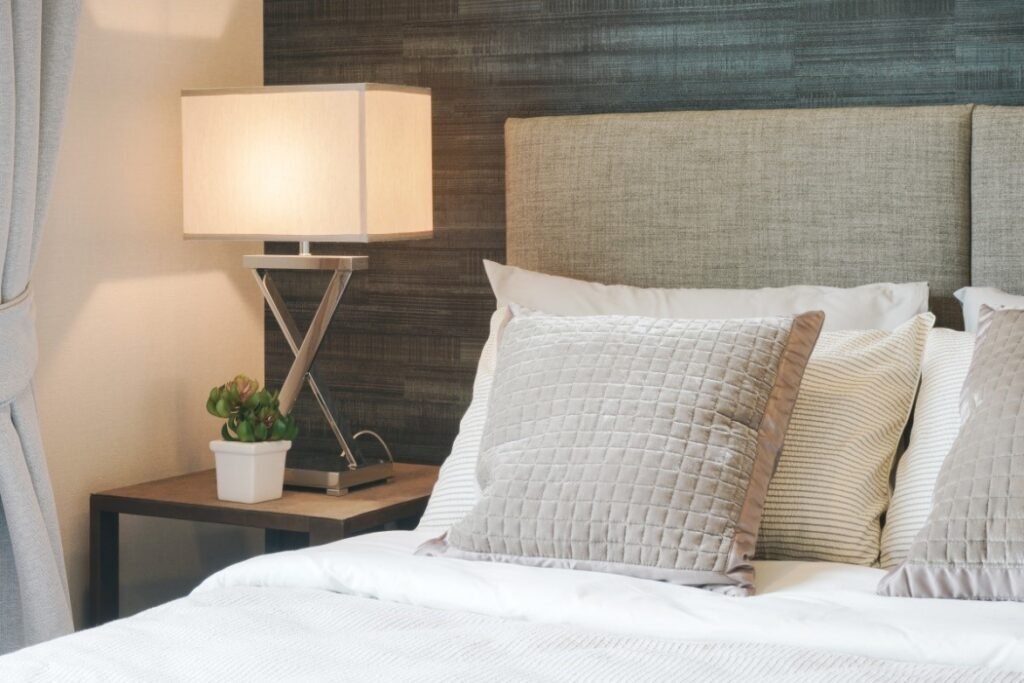 Headboard storage bed frames usually consist of one or more drawers. Some models also include cabinets, which provide additional storage space. These types of bed frames are also often designed to look stylish and integrate seamlessly with the rest of your bedroom's decor. A headboard storage bed is a great option if you are looking for a minimalist design storage
bed.
Hydraulic Storage Beds
Hydraulic storage beds are another great option to maximize your storage space. This type of bed frame is ideal for those with limited floor space because it requires less space than other bed frames.
They are usually designed to fit low-height beds and furniture such as sofas and coffee tables. These systems contain cabinets or shelves that slide out so you can easily access the items you need.
Hydraulic storage systems are great for storing items you frequently use, such as books and blankets. They're also ideal for storing seasonal items, such as Christmas decorations, that you won't need all year round.
Storage Beds with Drawers
Storage beds with drawers are another popular choice because they allow you to maximize your storage space. These drawers are usually built under the bed frame to provide maximum storage space, essentially creating a bed with built-in storage.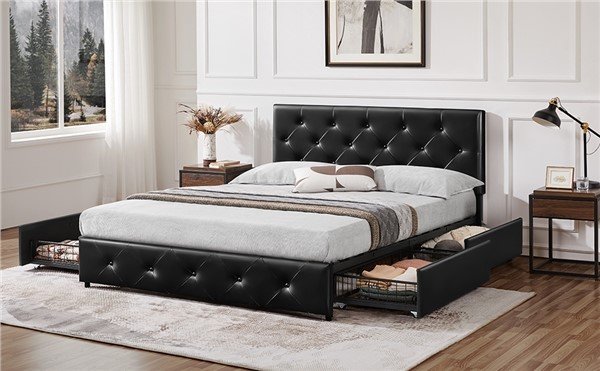 Yaheetech upholstered bed frame with storage is also a stylish way to store items and organize your room. Drawers under the bed maximize the available storage space and can also be used to store heavier items such as books and blankets. It is an excellent option for those who want to keep many items in their bedroom or have a large family that needs to share clothes, so you can choose a frame with a design and height you like.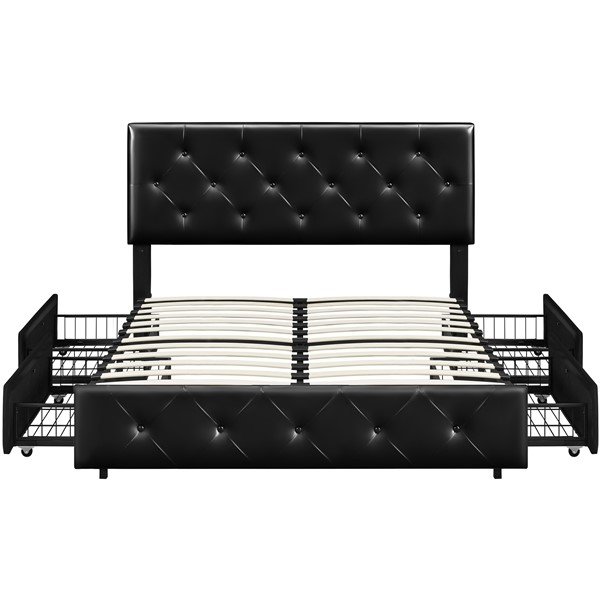 【Drawer Storage】Comes with 4 wire netting drawers with rollers under the bed. This Yaheetech upholstered bed frame provides convenient storage space for keeping your off-season clothing organized, creating a clean and tidy look.
【Faux Leather Upholstery】Upholstered with high-grade faux leather and filled with dense foam padding, your relaxation in the upholstered bed frame will upgrade to the next level. Also, the height can be adjusted at three heights (39.5″, 41.7″and 44″) to fit your needs.
【Stable Leg Support】Solid rails on both the headboard and middle, the Yaheetech platform bed with storage sits on strong barely-there metal feet, bringing outstanding stability and being free of wobbling.
In addition, I also summarized some tips for choosing a bed so that you can choose a good quality bed.
Solid wood materials because they are simple and not so fancy.
The foot of the bed is best inward, as it is not accessible to trip and fall.
Adjustable headboard, easy to replace the mattress of varying thicknesses.
The back of the bed with little inclination is more comfortable than the vertical
The material of the bed is waterproof and oil-resistant for easy cleaning
The reinforced slat is solid.
Under-bed space: high foot design, the cleaning robots are easy to pass through and clean
The type of storage bed you choose should be based on your choices and daily needs. If you want these types of features in one bed, it's not impossible. You can customize all kinds of storage beds, so you have the freedom to choose!