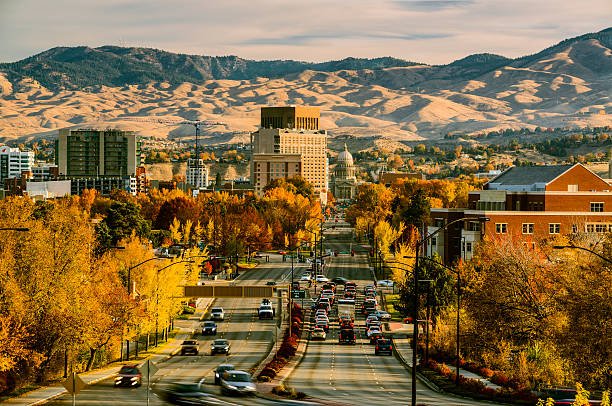 Are you considering moving to Boise, Idaho? The city, nestled in the heart of the Treasure Valley, offers a unique and inviting destination for individuals and families seeking a change of scenery. Boise has gained recognition as a hidden gem known for its quality of life and strong sense of community. Whether you're looking for a vibrant city with a small-town feel or a place that embraces the beauty of nature, Boise has something for everyone.
Boise, the capital city of Idaho, has a population of over 200,000 people and has managed to maintain its small-town charm while offering the amenities of a larger city. If you're seeking a fresh start or a better quality of life, moving to Boise provides an ideal environment to plant your roots. The city's diverse and friendly atmosphere attracts individuals from all walks of life, creating a rich tapestry of cultures and experiences. Whether you're an outdoor enthusiast, a culture seeker, or looking for career opportunities, Boise has the resources and opportunities to support your lifestyle.
Outdoor Recreation Opportunities
For outdoor enthusiasts, Boise is a paradise. The city is surrounded by breathtaking natural beauty, including the Boise River, the foothills, and the nearby Sawtooth Mountains. Residents can enjoy activities such as hiking, mountain biking, fishing, and whitewater rafting, all within a short distance from downtown. Bogus Basin Mountain Recreation Area, located just 16 miles away, offers skiing and snowboarding during the winter months. With more than 190 miles of interconnected trails, Boise provides endless opportunities for outdoor adventures.
Growing Job Market
Boise's job market has been experiencing remarkable growth in recent years. The city has become a hotspot for technology companies, attracting both startups and established businesses. Major employers in Boise include Micron Technology, HP Inc., and Simplot, among others. The strong job market has resulted in a low unemployment rate and a range of career opportunities in various sectors, including healthcare, education, and manufacturing. Whether you're looking for a job in the tech industry or seeking employment in other fields, Boise offers a promising environment for professional growth and success.
Family-Friendly Environment
Why move to Boise with your family? Boise is renowned for its family-friendly environment, making it an ideal place to raise children. The city boasts excellent schools, safe neighborhoods, and a variety of recreational activities for kids of all ages. The Boise Zoo, Discovery Center of Idaho, and Roaring Springs Water Park are just a few of the attractions that cater to families. Additionally, the city's commitment to maintaining parks and green spaces ensures that families have plenty of opportunities to enjoy outdoor activities and create lasting memories.
Affordable Cost of Living
Compared to many other cities in the United States, Boise offers a remarkably affordable cost of living. Housing prices, in particular, are relatively lower than the national average, making it easier for individuals and families to find affordable homes. Whether you prefer a suburban neighborhood or a downtown loft, moving to Boise provides a range of housing options to suit various budgets. Additionally, the overall cost of goods and services, including groceries and healthcare, is reasonable, allowing residents to enjoy a comfortable lifestyle without breaking the bank.
Excellent Education System
Boise prides itself on its excellent education system, providing top-notch educational opportunities for students of all ages. The city is served by the Boise School District, which includes several highly regarded public schools. Additionally, Boise is home to Boise State University, a thriving institution known for its strong academic programs and vibrant campus life. The city's commitment to education is further exemplified by its various libraries, after-school programs, and community resources that support lifelong learning.
Close Proximity to Nature
One of the greatest advantages of moving to Boise is its proximity to nature. Within a short drive from the city, residents can find themselves surrounded by breathtaking natural landscapes. The Boise River Greenbelt, a scenic pathway spanning over 25 miles, offers opportunities for walking, jogging, and biking along the riverbank. For those seeking more rugged adventures, the nearby Sawtooth Mountains provide endless opportunities for hiking, camping, and exploring the great outdoors. Boise's convenient access to nature allows residents to escape the hustle and bustle of city life and reconnect with the tranquility of the natural world.
Safe and Friendly Community
Boise prides itself on being a safe and friendly community. The city consistently ranks high in terms of safety, with low crime rates and a strong sense of community vigilance. Boise residents are known for their welcoming nature and willingness to lend a helping hand. The city's strong community spirit is evident through its numerous neighborhood associations, community events, and volunteer opportunities. Whether you're a long-time resident or a newcomer, you'll quickly feel embraced by the warmth and friendliness of Boise's community.
Thriving Tech Industry
Boise has emerged as a thriving hub for the technology industry. The city's tech sector has experienced significant growth, attracting a diverse range of companies and talent. The Boise TechMall, a collaborative workspace for startups and entrepreneurs, fosters innovation and encourages the development of cutting-edge technologies. The presence of established tech companies and the availability of resources and support for startups make Boise an attractive destination for tech professionals and aspiring entrepreneurs. The city's commitment to nurturing the tech industry has resulted in a vibrant ecosystem that fosters innovation, collaboration, and economic growth.
Accessible Healthcare
Access to quality healthcare is an essential aspect of any community, and Boise excels in this regard. The city is home to several renowned hospitals, medical centers, and healthcare facilities that provide comprehensive healthcare services. Residents have access to top-notch medical professionals and specialists across various disciplines. Furthermore, Boise's commitment to wellness is evident through its numerous parks, recreational facilities, and fitness centers that promote an active and healthy lifestyle.
Conclusion
Should I move to Boise? In conclusion, moving to Boise, Idaho, offers a multitude of benefits and opportunities. From its rich cultural heritage and vibrant arts scene to its abundance of outdoor recreational activities, growing job market, and family-friendly environment, moving to Boise has something for everyone. The city's affordable cost of living, thriving food and craft beer scene, excellent education system, and close proximity to nature further enhance its appeal. 
With a safe and friendly community, a thriving tech industry, and a calendar full of unique events and festivals, Boise is a city that embraces diversity, fosters innovation, and offers a high quality of life. So if you want to move to a city like Boise, Idaho, you should consider top rated movers in Boise, Id! Top-rated movers will pack your entire home, including your appliances, and load everything safely onto the moving truck. They will assist you in unloading the truck at your new residence.