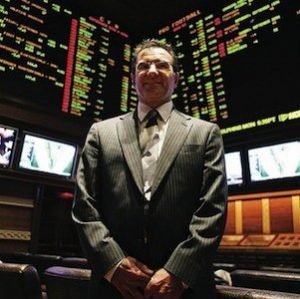 Whether you've been doing any betting on it or not, this year's NCAA tournament has been a tough one to predict. From the moment Louisville lost in the first round (fine, the second round) to when one-quarter of the Sweet Sixteen consisted of double-digit seeds, to when VCU became a Final Four team, there's been little that's been easy to predict.
At least, for most people. We spent some time and money inside the sports book of the Wynn Las Vegas and chatted with its director, Johnny Avello (the handsome fella to the left). Here's what we learned from him about not losing your jersey when betting on sports.
1. Trust bookmakers
Ever wonder how bookmakers predict point spreads with such alarming success? We do too. Tip-time lines at Wynn (that is, the lines on the board when the games began) came within one point of the score in roughly 65 percent of the first-, second-, and third-round games. The bottom line: Don't doubt the oddsmakers; they know their stuff.
2. Quality trumps quantity
Some (novice) sports bettors think it's better to bet small on a bunch of games than it is to bet big on a select few. This strategy is poor on two counts: It'll give you an ulcer, and nobody can wager with confidence on every single game. Instead, pick a few great matchups (for bettors, that is) and bet the hell out of them.
3. Parlays are tough to hit
The notion of picking three winners on one ticket doesn't seem particularly hard. Well, it is. That's why casinos give you better odds when you parlay games. It's also why, on average, less than 25 percent of all traditional parlay bets actually hit. A good alternative is a Round Robin parlay, which lets you lose a game and still win some cash.
4. Props are dangerous … but fun
Proposition or "prop" bets are random wagers on stuff that's peripheral to the final score. They're also usually sucker bets; casinos rarely offer value with them. Still, they can be fun. The first weekend at the Wynn, for instance, Avello hung a prop on how many points BYU's Jimmer Fredette would score against Gonzaga. The line: 30.5. Most people took the under. He went for 34.
5. Screw your allegiances
This is perhaps the most important lesson of all: Always bet with your head, not your heart. Sure, it's fun to wear the colors and support your school. But unless you're an alumnus of sure-bets Duke or Ohio State — actually, never mind! — you're better off supporting your school by donating your bankroll.