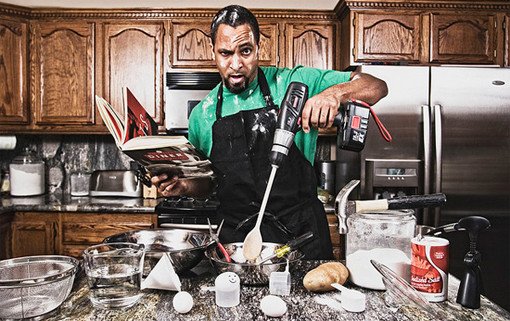 You might not aspire to be the next Gordon Ramsay, but you should have a basic level of kitchen skill that extends beyond using a microwave or unwrapping a frozen pizza. Not only do women love a guy who cooks, but using fresh ingredients is A) healthier than eating frozen or processed foods, and B) better for your bank account than dining out or ordering in. So whether you know how to cook but never do, don't know how to cook but want to learn, or are a kick-ass home chef who wants kick even more ass while wearing an apron — seriously, you wear an apron? — any of these cookbooks for men can help you out …
Top Single-Guy Cookbooks

At 280 pages, the book runs the gambit of drinks, snacks, meats, success, and rubs, slaws and sides, and sweet stuff. So you'll learn to mix drinks like a Manhattan, LBC, Camp, and Camp America, while also getting schooled on how to churn out more than 120 smoky and sublime dishes, including hot mutton ribs, whole smoked duck, and deviled chicken bun. Even better, the directions are easy to follow and there are lots of pictures for those of us word haters.
Chef Robert Irvine's Fit Fuel offers a twofer of cooking and workout tips. Dude is in his 50s and jacked up — which you get to see numerous times because he's shirtless for much of the workout stuff.
Divided into three sections, each part focuses on a different aspect of living healthy — an overhaul of the attitude and mind; fitness routines; and lastly, recipes. The photography is sharp and the "how to" aspect of all three sections are easy to follow.

A modern take on Mexican street food that starts with essentials like corn tortillas, chilies, spices, and cheese and then shifts to salsas and moles. Of course, there's a step-by-step illustrated how-to for burrito and taco making. There are even meatless options for all you weirdos vegetarians out there.

Never look at toast as boring ever again! This cookbook tackles a simple concept with fifty creative recipes and fresh ingredients for delicious toast any time of day. Whether the bread is broiled, pan-fried, chargrilled or deep-fried, these easy recipes will amaze your friends and surprise your relatives.

For the beginner's beginner, this cookbook for guys focuses on easy-to-make recipes with insanely easy tutorials. You'll gain basic skills in the kitchen and learn the proper use of oils and lubricants. (Please hold the lube jokes — thanks.) From caffeinated brownies to drunk broccoli, day-one starters will get their feet wet — or hands floured? — with relative ease.

Whether you think Gordon Ramsay is an arrogant asshole should be irrelevant — dude can cook. The three-star Michelin chef teaches quick, healthy, and tasty recipes. Most dishes take about 15 minutes to prep and cook and none of them take up more than 45 minutes to prepare and serve.

The MasterChef reality show showcases some of the best home cooks in the nation. This book takes 100 of their best recipes — including venison medallions, seared lobster with bourbon and shallots and an apple caramel spice cake — and walks aspiring home cooks and lazy layabouts like you through a step-by-step process of making them.
You'll also learn important kitchens skills, like how to sharpen knives, season a pan, and create the perfect steak rub.

You'll get a historical look at various chili dishes as well as 60 meat and vegetarian recipes you can use to spice up your plate. Whether you're looking to make restaurant-style fare or a quick-hitting recipe for the week, you'll find it in here accompanied by eye-pleasing photography.

The book's author Fergus Henderson is a big swinging dick in London, where his restaurant St John in London offers all manner of meats. For instance, Roast Woodcock — served with guts, head, and all. In case you didn't catch on from the title of the book, it'll show you how to use the entire animal when cooking. (And not all of it is technically "legal" in the United States.) Try making the rolled pig's spleen … if you can stomach it.

Southern John Currence has received multiple awards for his cooking skills, including 2009's James Beard Foundation Award for best chef. In his first book Currence provides 130 recipes organized by 10 different techniques, including boiling/simmering, slathering, pickling/canning, roasting/braising, muddling/stirring, brining/smoking, and baking/spinning. We have no goddamn idea what some of those techniques are, but there are also tips for pairing with music and cool pics to go with the dishes.

This one from Esquire Magazine corrals over 100 manly recipes like Arroz con Pollo, Pulled Baby-Back Ribs Eggs Benedict, and — heh heh — Hamburger Balls from some of the country's top chefs. It also dispenses wit and wisdom like what foods you can and can't eat off the floor, and how to make a perfect Old Fashioned. Obviously, that makes this the best cookbook for men to teach you chef's skills while getting you loaded.