Many people return to Las Vegas again and again. However, if you're going for the first time, it's best to act as if you'll only visit once in your life. When it comes to Sin City, there's no space for half-measures: you should go all in. If you act as if you can always come back, then you might hold back — and this ain't the city for that! Plus, while you can say you'll return in the future, who knows what might happen? There are no guarantees in that life.
If you're planning a trip, then check out the tips below. They'll ensure that you very much experience Las Vegas to the fullest.
Go Late Spring/Summer
You'll likely only have a few days in Vegas. And you won't want to spend those days hiding inside, away from the heat and the large crowds of people. If you have a choice of when to go, look at visiting during the latter parts of Spring or Summer. The weather can be blistering hot during the height of summer, and you'll also need to contend with the crowds. The shoulder seasons offer perfect temperatures, fewer crowds, and better deals.
Travel in Style
Vegas is all about livin' it up. And that should begin before you arrive in the city. At the bare minimum, you should pick a flight route that doesn't leave you exhausted. You might save some money by taking an indirect flight, but you'll arrive fresher and more energized if you take a direct flight (and that counts for a lot if you're only there for a few days!).
If you want — and can afford — to push the boat out slightly, then consider upgrading your flight to premium economy/business class. There's nothing better than arriving in Las Vegas having had an awesome flight where you felt like a celebrity.
Stay on the Strip
You'll find excellent hotels all over Las Vegas. But if you're visiting for the first time, and perhaps just one time, then you should really only stay on the Strip. That'll ensure you're right in the thick of all the action. It can be tempting to save some money by staying elsewhere in the city, but you'll only end up spending more money than you'd like on taxis to and from the main attractions.
There are no bad hotels on the Strip. If you're going for pure convenience, then big somewhere located halfway up the street. It's four miles long, after all, so if you're on one of the ends, you could have some serious miles to walk.
Hit The Casinos
Some of the world's best casinos are in Las Vegas. Indeed, it's here where much of the allure of casinos was born. You'll find casinos up and down the Strip (and off, too, but stick to the main ones), and it's well worth spending some time in them. You don't have to gamble, but hey, this is Vegas, so it's worth allocating at least some of your travel funds to the tables. You can ensure you're ready for action by making the most of an introductory online casino deal, which will allow you to become familiar with the most popular games. You can also do some sightseeing in the most popular casinos, too — many have been featured in some all-time classic movies.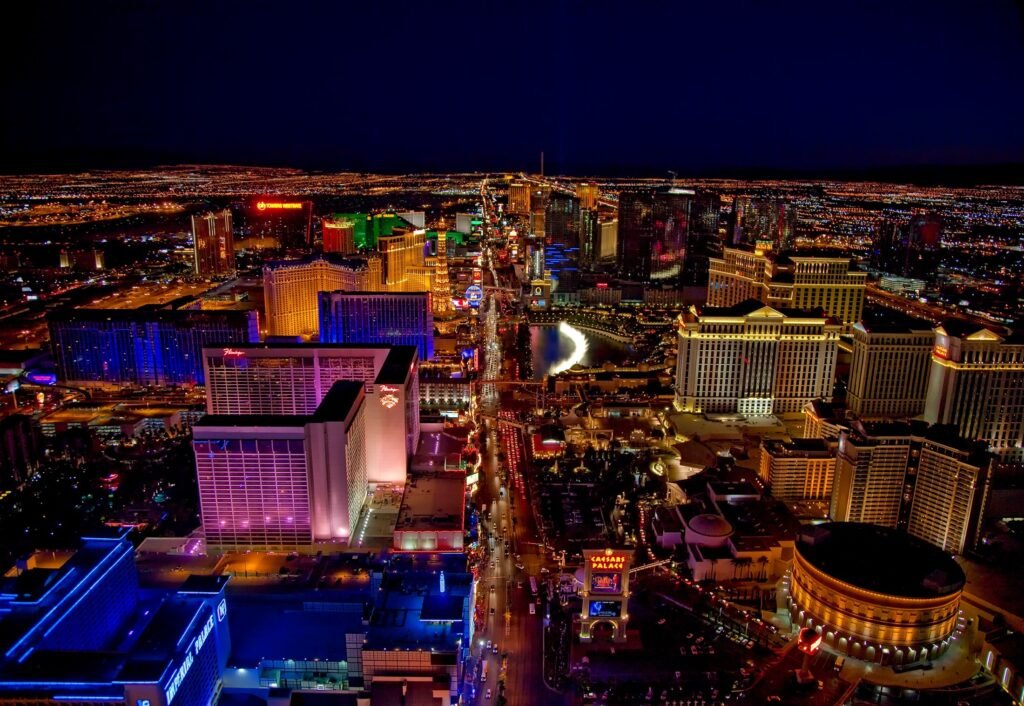 Treat Yourself To a World-Class Meal
For some reason, people don't tend to think of Las Vegas as a "foodie" city. But they should! You'll find some outstanding restaurants in the city, which offer the chance to enjoy a delicious meal in stunning environments. If you've got a penchant for fine dining, then you won't be disappointed. You'll find all kinds of cuisine well-represented, from steaks to sushi to French food. Some notable restaurants in the city include Barry's Downtime Prime, Delilah, and Restaurant Guy Savoy.
Tables at these places (and the city's other great cities) always fill up, so it's best to make your reservation as soon as you know when you'll be in the city.
Attend a Show
Las Vegas is a city that very much knows how to keep its visitors entertained. Some of the world's best shows, music concerts, and sporting events happen in the city. Some events are one-off (such as boxing matches) and are hard to get tickets for, but others take place every day. Take a look to see what's available, and make sure you attend at least one show. The best magic and dance shows in the world happen in Las Vegas.
Head to the Grand Canyon
All of the attractions in Las Vegas are man-made. But you'll also have access to one of the world's great wonders, too. The Grand Canyon is located nearby, making it a perfect road trip. It's worth going, even if you only have a few days in Vegas. If time is a factor, or you don't want to drive, then consider taking a helicopter trip to the National Park. You'll be there in the blink of an eye — and plus, the views of the city when you make the return trip are pretty spellbinding.
…and Relax
Las Vegas is a city that invites you to go, go, go. There are a lot of things to do, after all! However, that doesn't mean that the city isn't also a place where you can relax. If you're feeling a bit tired, then look at spending the day by the pool. Most of the casinos permit public access for a fee. It's the perfect way to take a break from running around.
Final Thoughts
Las Vegas is undoubtedly one of the best tourist destinations in the world. Indeed, you'd be likely to have a good time no matter what you did! But if you really want to make the most from your trip, then consider taking our tips above. We promise you'll return home with a bag of awesome memories. And while we said it might be a one-time thing, we think you might just return in the future.