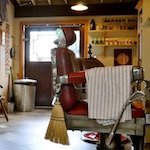 If you're going to live in Los Angeles, there are a few things you need to worry about: chicks dating you for your money (if you have it), chicks not even considering dating you at all (if you don't have money), finding a dermatologist, eating good sushi (there isn't any), and spending at least $100 a year on Audible so your time on the 405 isn't completely wasted. Somewhere on that list, probably not at the top, but near it, is your hair maintenance. If you're a normal-looking dude, take it from us — you look like a Wookie in comparison to the flock of male Adonis' descending on LA every year.
While women can enhance their looks with a number of beauty treatments, guys are pretty much limited to the gym and the barber. Since great haircuts aren't determined by genetics, you're in luck. Send a message to men and women alike that you're a successful, well-put-together man by visiting one of the best barbers in Los Angeles for a top-of-the-line cut.
The Best Barbers In L.A.
If you're looking for a fly cut to define your style, allow the barbers at Legends to shape your hair. ESPN and hip-hop music are always on blast, so the vibe is chill, but lively. With a team of stylists going by the names Goose, Q, and Jayar — known by many as the best barbers in Los Angeles — you'll want to come up with your own super-cool alter ego (who always sports a fresh cut) every time you walk out. If you're looking for a barbershop with street cred, this should satisfy your requirements: The stylists at Legends have appeared in a 50-cent music video and on The Today Show — how's that for covering their ground?
Address: 431 N Fairfax Ave, Los Angeles, CA 90036
Phone: (323) 658-7000
Short of hopping into a time machine, a visit to Gornik & Drucker is the best way to transport yourself back to the 1940s. Touted as 'Home of the Shave,' Gornik & Drucker was founded in 1936 and has been giving well-known men excellent shaves for decades, including the likes of Clark Gable, Ronald Raegan, and Frank Sinatra. To join the ranks of well-groomed men, you'll have to fork over $75, but you'll enjoy a haircut, straight-razor shave, and glass of whiskey in exchange for your trouble.
Address: 225 N Canon Dr, Beverly Hills, CA 90210
Phone: (310) 860-7819
All you need to know about The Barber Shop Club: This place consistently gives great, classic cuts…and parking is validated. Seriously, where else can you find the combination of style and convenience in Los Angeles? This two-chair shop is old-school, from the retro vintage chairs to the hair pomade (aged a minimum of a year) they use. Relax before you indulge in a straight razor shave ($55) with a beer sourced from EB's, a Farmer's Market staple lauded for having the most varied import draughts in Los Angeles. This cozy spot is by appointment only, so make sure you book in advance.
Address: 6333 W 3rd St, Ste 116, Los Angeles, CA 90036
Phone: (323) 931-9916
If you're interested in bringing back a dying art form (don't worry, it doesn't involve slitting customers' throats and packaging them into meat pies), step inside Sweeney Todd's Barber Shop for a hair experience straight out of the '50s. Write your name on the chalkboard and choose from one of the many gentleman's entertainment rags on hand to pass the time. Sweeney Todd's is truly committed to delivering a time-warp experience — meaning cell phones, the modern-day security blanket, are not allowed, the TV is black and white, and credit cards are pieces of plastic better used for picking locks than paying for services. Since it's usually a long wait (sometimes 2 hours on a Saturday), plan on sticking around for a while. While you're waiting, Red Wiggins will shine up your shoes outside for $8.
Address: 4639 Hollywood Blvd, Hollywood, CA 90027
Phone: (323) 667-9690
5. South East LA — Hector's Barber Shop
If you're not into frills and fussy barbers, this hidden gem of a barbershop will light up your radar. Hector isn't interested in bringing back the '50s, landing himself a write up in Spin magazine, or overcharging you for placing a heated towel on your face — he's just about clean cuts and reportedly excellent customer service. Cuts are $12 and Yelp reviews are almost exclusively 5 stars — that's music to our ears. Speaking of ears, Hector will provide a straight razor cut around the neck and the ears for no extra charge. In Los Angeles, $12 doesn't get you a whole lot, so if you're deciding between a burrito and an awesome haircut, the choice should be clear.
Address: 8109 S Broadway, Los Angeles, CA 90003
Phone: (310) 844-8049
In Tinseltown, you're only as good as your next project. While that applies to show business, it's also a good rule for haircuts. For a hit cut, visit one of the best barbers in Los Angeles.
What to look for in a barber shop?
When searching for a barber shop, there are several factors to consider. One of the most important is sanitation; look to see if the shop is orderly and if tools and chairs are sanitized between each use.
Another aspect to keep in mind is the atmosphere – make sure you're comfortable with the shop's aesthetic, such as music or décor.
Additionally, think about location and cost. As far as location goes, it should be convenient and accessible; with cost in mind, determine how much you're willing to spend before deciding on which barber shop is right for you.
Once you have taken all of these variables into consideration and made your decision, you can expect a high-quality haircut experience!