CBD syrup is an excellent alternative to regular CBD oil tinctures. While CBD oils tend to have an intensely herbal taste to them, CBD syrups have a much sweeter flavor that closely resembles the cough syrups we all remember as a child.
CBD has a naturally bitter, earthy taste that some people love while many others dislike. To help make CBD oils more enjoyable, many brands add additional flavorings. CBD syrups pack many of the same benefits of CBD oils and are used in a similar way; however, their sweet syrup base helps to hide the bitter taste of the CBD.
Like CBD oils, syrups allow you to measure your own dosage, giving you a level of control that is rarely found with other CBD products. If you are someone who has always struggled with the taste and overall experience of using CBD oils, but like the control that they give you, CBD syrups could be the perfect solution.
So, let's take a look at where you can find the best CBD syrup in 2020.
The Best CBD Syrup from Hemp Bombs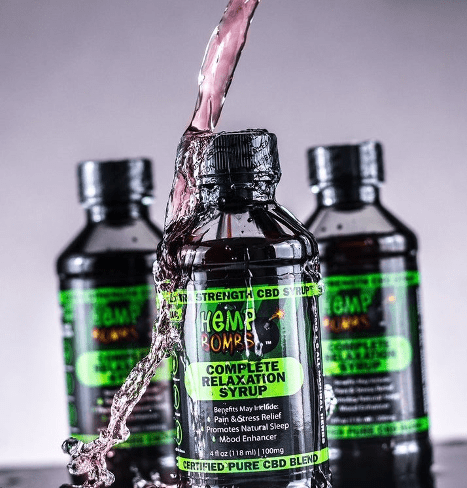 Hemp Bombs CBD syrups deliver a healthy dose of broad-spectrum CBD in a sweet and delicious form that you cannot help but instantly love. With a premium CBD blend, Hemp Bombs syrup packs all of the potential benefits that make CBD such a popular and loved dietary supplement.
Hemp Bombs has three concentrations of CBD syrup to choose from, giving you the ability to take control of your CBD intake so that it suits your individual needs. Hemp Bombs provides clear and helpful guidance, making it easy for you to decide which products are right for you.
A blend of water, high fructose corn syrup, and vegetable glycerin gives Hemp Bombs' CBD syrup a smooth texture, making for a delightful treat. A combination of natural and artificial fruit punch flavors are added to create the fruity sweet flavor that makes every drop of syrup so rewarding.
For a mild dose of CBD that offers soothing effects, Hemp Bombs provides a 100mg CBD syrup. For more powerful results that last longer, Hemp Bombs also has 300mg options and a 1000mg syrup for those looking to treat specific conditions.
As Hemp Bomb uses broad-spectrum CBD in all of its syrups, you can benefit from a plentiful cannabinoid and terpene blend without having to worry about accidentally consuming intoxicating THC. Hemp Bombs uses independent lab testing to check the precise cannabinoid content of its syrup, guaranteeing that you know exactly what goes into each bottle.
At Hemp Bombs, attention is given to even the small details, enhancing the overall experience of using this CBD syrup. Even the packaging has been designed to correctly set the tone of Hemp Bombs' CBD syrup, with a bright green theme and a fun font to let you know that you are about to enjoy a burst of fun and fruity flavors.
Benefits of Using CBD Syrup
CBD syrup allows you to enjoy all the benefits of adding a regular CBD dose into your daily routine with the added fun of a sweet and flavor-packed experience. CBD syrup combines all the benefits of CBD oil tinctures with the benefits of CBD edibles into one convenient product, making it easier than ever before to add CBD to your supplement routine.
Thanks to Hemp Bombs' great tasting CBD syrup, you can add a little CBD to mealtimes without having to worry about your taste buds being negatively affected. Many CBD oils leave a lingering taste in your mouth that can quickly ruin a meal, but this is not the case with CBD syrups.
Just like CBD oils, syrups give you complete control. Hemp Bombs has three concentration options, but the level of control available goes beyond just choosing the right product. With syrups, you decide how much liquid you consume at any one time and, therefore, the intensity of the effects that you feel.
Final Thoughts on Shopping for CBD Syrup
Before shopping for CBD products, it is always a good idea to understand the basics of what CBD is and how it could benefit you. Understanding how CBD works will allow you to choose the correct concentration and type of CBD that delivers the effects that you desire.
WayofLeaf has a range of articles designed to help you learn all you need to know about CBD so that you can shop with confidence. From teaching you the basics about the different types of CBD to discussing the different CBD products that are available, WayofLeaf is a great place to improve your CBD knowledge.