Let's admit it – as much as we love dipping into our pool, we dread the thought of cleaning it. We don't like a filthy, slimy-looking pool, but we don't want to clean it ourselves either. Good thing though because robotic pool cleaners can do this task for us!
By using a robotic pool cleaner, you can shorten your cleaning time, which gives you that more time enjoying a cool dip rather than cleaning your pool. But be careful when choosing a pool robot for your fiberglass pool as some are not worth your money.
I know this because I have one right now which is really good compared with other pool robots my friends chose. I have Dolphin Nautilus CC Plus, I bought this last summer, and I'm really happy with this pick. It cleans my pool the way I like it. I have a big fiberglass pool that comes out clean after a few hours of running this buddy.
According to many fiberglass pool owners, they use a robot cleaner for at least 45 minutes a week. So if you ask me what my basis for choosing a pool cleaner is, my answer is simple – consider the size and how often you need to clean your fiberglass pool. If you have a big pool that needs cleaning often, you need heavy-duty robot cleaners. Otherwise, you can settle with models that are intended for home use.
Aside from Dolphin Nautilus, there are many pool robots in the market to choose from. Here are some of my top picks:
Dolphin Premier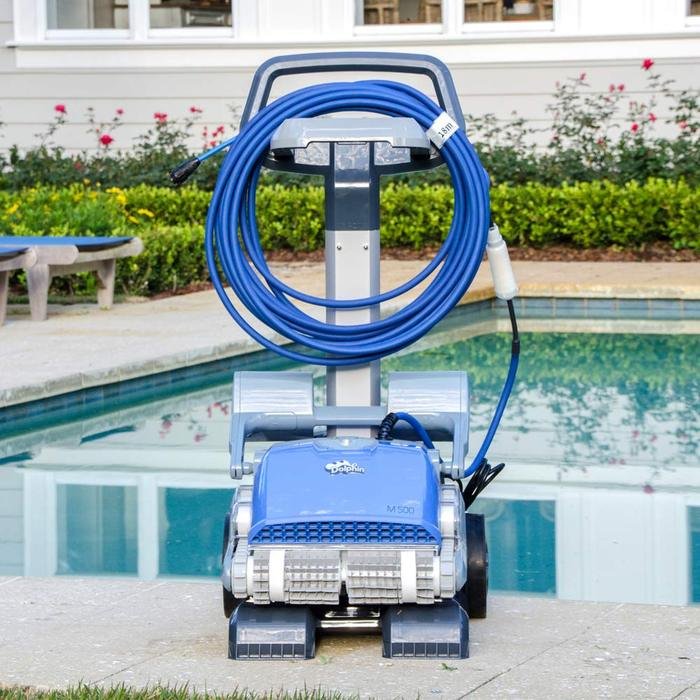 With powerful dual scrubbing brushes and multiple filter options, Dolphin Premier is one of the best pool robots today. This model is so powerful that it can go down to 50 feet depth. It's also effortless to use – just plug it in, submerge it into the water and wait until it reaches the floor, and you can leave. With CleaverClean technology, it uses an advanced algorithm to clean the surface thoroughly.
Polaris F9550 Sport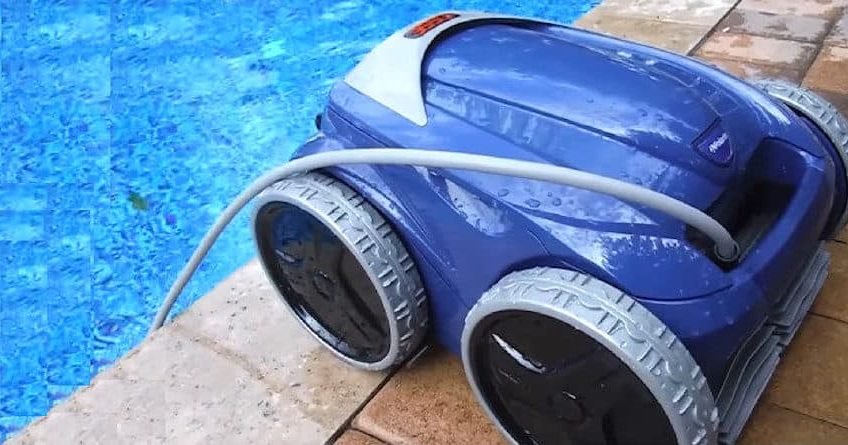 A 4-wheeled robot that effectively cleans any surface. In terms of navigation, it uses ActiveMotion Sensor Technology to lay out an exact path that the machine follows while cleaning. The robot has a 70 feet cable, which allows it to go deep. Polaris has a Vortex Vacuum Technology feature to pick up big debris while on its maximum suction power to ensure superior cleaning.
Dolphin E10

Dolphin E10 is designed to clean your inground fiberglass pool within 1.5 hours only. If you need a cleaning buddy that can give you more time to enjoy the pool, this brand is the solution. With superior filtering and floor scrubbing capabilities, you can have a good dipping time knowing that the water is clean and the tiles are algae-free. Dolphin E10 doesn't need additional pumps or hoses, making it a practical choice too.
Hayward RC9950GR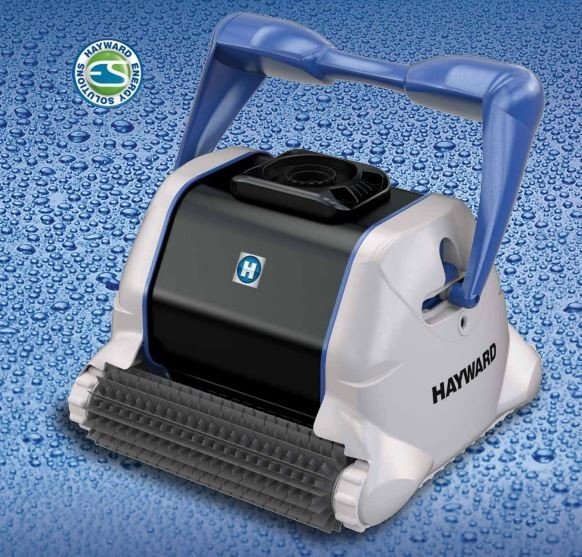 If you're up to something that looks like it is designed for home use, Hayward RC9950GR might be the answer. It is perfect for smaller pools. In terms of maintenance, this device is so easy to clean. You just need to remove the filter, rinse it with a garden house, wipe with a dry towel, then put the cartridge back in its place. It effectively sucks up dirt and debris, leaving the pool clean after 3 hours.
There are many brands out there that make great inground fiberglass pool cleaners. But after testing and watching video tips on cleaning, I decided that these are my picks.
The Benefits of Pool Robots for Fiberglass Pools
One of the biggest benefits of pool robots is that they require almost no maintenance on your part. Once installed, these robots can be programmed to run at certain times of day so that they can effectively clean your fiberglass pools without any intervention from you. This means that all the work can be done while you sleep—allowing you to wake up every morning to a sparkling-clean pool!
Another great benefit of using robotic cleaners is that they are incredibly efficient at cleaning even the toughest dirt and debris from your fiberglass pool. Robotic cleaners have powerful suction motors that suck up leaves, dirt, algae, and other debris while scrubbing away stubborn stains and blemishes on the surface of your pool. And since these cleaners are lightweight and maneuverable, they can easily reach even those hard-to-reach corners of your fiberglass pools.
Finally, robotic cleaners are also very affordable compared to traditional manual cleaning methods. With regular use, these robots can help reduce the need for expensive chemicals like chlorine or algaecides because they remove most contaminants before it has a chance to build up in your pool. This means that not only will robotic cleaners save you time and energy but also money in the long run!