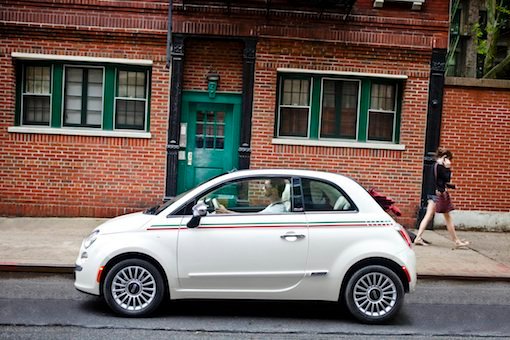 The 2012 Fiat 500c is a convertible … of sorts. Following up on the hardtop 500, which debuted earlier this year, the 500c dispenses with the steel ceiling in favor of what Renault's beloved 1980s Le Car boasted — a canvas top that rolls up and rests just above the trunk. However, the 500c's engineering is far superior to Le Car's, so you can sit and marvel as you watch the canvas top fold back and provide the front and rear passengers access to the open sky rather than curse the French as you do it. Best of all? You can open the roof while doing 60 mph down the freeway or through the school zone.
The open top makes the interior feel roomier than the 500 — though backseat passengers will be far more comfortable if they happen to be molto piccolo — and considering the car has a canvas roof, the road noise is surprisingly quiet. Just as in the 500, the 500c is powered by a sprightly 101 hp, 1.4-liter inline-4 mated to either a six-speed automatic with a keen auto stick function, or a somewhat oddly geared five-speed manual. (Our vote? The automatic.) Either transmission will net you high 20s gas mileage in the city, and mid 30s on the highway; admittedly, we'd love to see those numbers a little higher.
The 500c boasts two trim levels, a $19,500 Pop and $23,500 Lounge, which adds some chrome accents, the automatic tranny, fog lamps, Sirius Satellite Radio, Bose speakers, and 15-inch aluminum wheels. You won't beat many people off the line in the 500c, but if you're into easy parallel parking, European design, and picking up Italian women, the 500c will get you where you need to go.