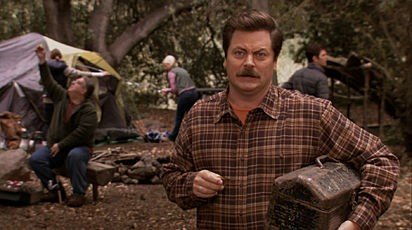 You may not think camping tents are all that exciting — or all that different from each other. Or maybe we're the only ones who thought that, what with us being citified pansies. Regardless, it turns our that there are tents out there that are so innovative, specialized, and awesome, we want them just so we can pass out drunk in them in the backyard on Wednesday nights. That said, no matter what kind of adventure you're after — a getaway with your buddies, a solo bike or kayak trek, an ill-advised road trip to see some self-indulgent jam band — there's a camping tent that'll make your adventure even better.
JakPak ($140 @ Amazon.com)
No matter how much of a bitch Mother Nature is, you'll be ready. The JakPak is a three-in-one waterproof and breathable jacket, sleeping bag, and tent that eliminates the need to lug excess gear around the wilderness. A pouch near the hood stows the tent while the sleeping bag rests in the coat lining. All said, the transformation from jacket to tent takes about a minute.