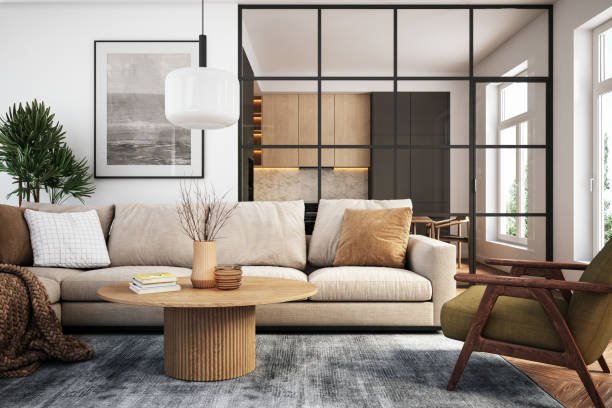 With the pandemic waning and the looming concerns about the recession, we have a shift in the way we look at our homes. Over the past couple of years, we have had to turn inward and look at the domestic decisions we make. Whether it is renovating the space or building a workspace for yourself, the past two years have made us realize the importance of our homes, and it has led to new home decor trends that you must keep an eye on in 2023. 
Return of the warm neutrals
The good old days of brown, beige, and cream are here. They have been passed over for many years and are evocative of the 1990s. We will be moving away from the hard, grey tones towards the ones that make you feel warm and kind. Light gray is going to be a color in trend this year, and we will see a lot of it in residential and commercial spaces. Hence, if you are planning to renovate your space, it would be wise to invest in versatile and comforting neutrals. The neutrals reflect how we want to add optimism and peace in our homes by wrapping rooms in warmth and bringing a sense of well-being in a cost-efficient manner.
Natural materials will reign
The colorful, dramatic marble is going to be everywhere this year. It is a part of the larger trend which highlights the most natural qualities of materials. Organic materials and shapes have been popular in the past, but this one is very specific. We will see a lot of focus on the textures and veining in stone, wood, and marble. There will also be a growing demand for hardwood floors since they are easy to maintain and cost-efficient. Arizona hardwood floor supply has already seen a surge in inquiries from homeowners about the installation since the beginning of 2023.
Sustainability is the key
Another top trend of 2023 is sustainability, and it is here to stay. There will be a rise in the demand for earth-friendly products, right from the items for our homes to our gardens. Some of the top designers have seen a change in the way people add sustainable items to their homes. This is an emerging concept in some areas while an established concept in many others. Specifically, we will see a lot of demand for sustainable gardening solutions this year.
Modern maximalism
The maximalist style is not going anywhere for a long time to come, but we will also see a lot more layering of the sculptural silhouettes instead of the patterns and prints. As we move away from the concept of minimalism, we will see an expressive approach toward interiors, and this will lead to more people talking about spaces that are created around the work of art and collectible objects. Several designers have seen clients investing in sculpture this year. When arranging objects, we will see more of a layered feel in terms of material or color.
Green is in
The outdoors are in this year, and you can expect to see green everywhere. Besides the indoor plants, there will be leafy-hued furniture, grassy flooring crop up in the home as well as green, moody wall paint. Emerald is the top color for the year, and its popularity is slowly growing.
Transparent touches are here
The home decor trend that is unique for 2023 is the transparent touch. We will see ethereal details ruling the scene. There could be a wave of tulle, lace, shimmer, and ruffles in the fabrics. In terms of objects, the transparent trend will also be present. There will be objects that have a light, airy, and tinted design, which will help free up space while also giving enough creative space to dream. This trend could even manifest as an onslaught of glass bricks and alabaster lighting in the near term.
Hold on to history
Known as the hipstoric home trend on Pinterest, people are looking for ways to honor their roots this year. They are looking at new ways to honor the inherited and vintage pieces in their homes while also focusing on comfort. The idea is to bring a feel-good aspect to the home that could bring up a smile on their face every time they see it. Through this, people will look to breathe new life into their old furniture at a minimal cost.
If you are a homeowner, these are a few home decor trends to keep an eye on in 2023. We will see them emerging and evolving throughout 2023, and they will become an integral part of our homes and lives. Whether you plan to renovate your space this year or not, these trends are worth making note of and looking out for.