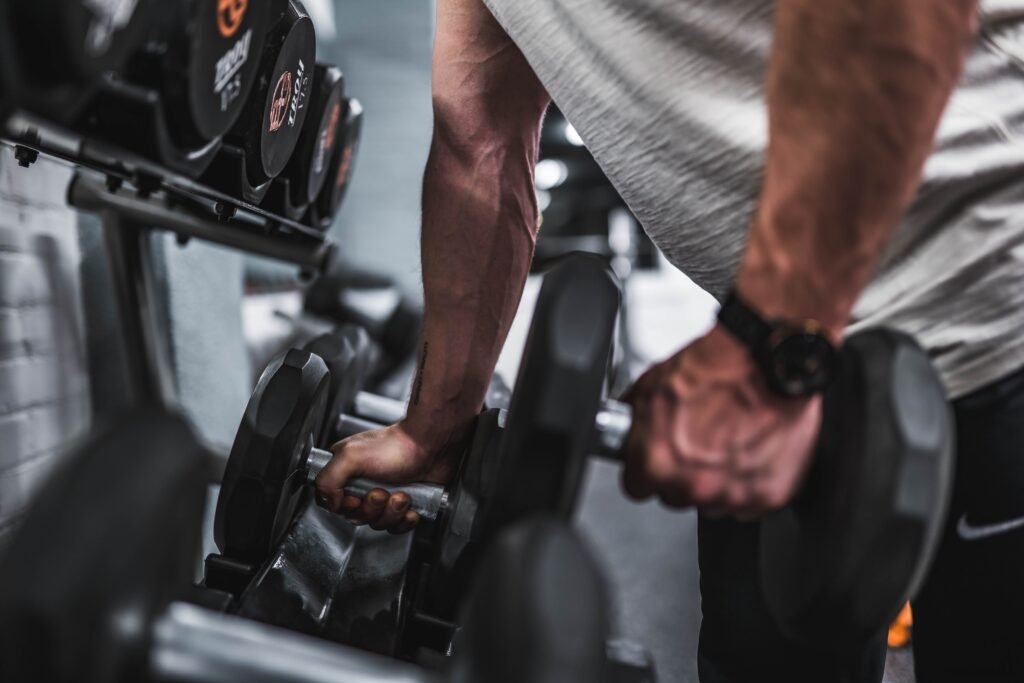 There are hundreds of thousands of personal trainers – that's a lot of choice! Some will be life-changing, but with others, you risk injury. To ensure you get the proper support, we've outlined how to choose a PT who aligns with your goals. 
In-person vs Online Personal Training
Both in-person and online personal training have positives and negatives. While some people like the flexibility of online personal training, others prefer in-person interaction with a trainer in the same room. These pros and cons will help you decide which is the best choice for you.
Pros of in-person training
You can be sure they are qualified. While all PTs should be qualified, a personal trainer who is working in a gym will have had their qualifications checked by their employer.
Physical presence. You will be away from distractions like watching TV or checking your phone. You will also avoid potential interruptions from your family or housemates going about their routine. In-person training will allow you to concentrate on your fitness goals and complete workouts with focus.
Real-time corrections. It is essential to have your workout or exercise mistakes corrected right away. It will save you from the risk of getting injured. In-person PT will reduce risk by correcting bad habits and poor form on the spot.
Socialisation. Research has shown benefits in real-life interactions, helping increase levels of motivation and happiness. In-person training means spending focused time with another human – a considerable advantage when people are spending more time alone and online.
Cons of in-person training
Bigger investment. Compared to online fitness sessions, in-person PT can be more expensive.
More tiring and time intensive. As well as the training itself you have to travel to and from the gym – depending on your location this can significant time and mental drain on to a gym visit.
Pros of online personal training
Accessibility and flexibility. Most online trainers will be happy for you to record your sessions – allowing for you to revisit parts of the instructions which were unclear.
Affordability. As online trainers often run sessions from home it means that they have less overheads and can charge less than trainers who have to pay commission to a gym or who rent their own exercise space.
Answer your questions in-depth. Have more questions for your personal trainer that you forgot to ask during your session? Online trainers often give you unlimited access to them via messaging.
Suitable for a busy person. Online trainers are often more flexible with their schedules meaning they accomodate your schedule more easily. For busy people this is a huge plus.
Cons of online personal training
Home distractions. One of the biggest challenges of online personal training is combating distractions. Some home distractions you cannot control involve family members or housemates watching TV and children or pets running around making noise.
Online fatigue. Since the pandemic, many people have experienced online and lockdown fatigue. Some people can feel less motivated for online personal training.
Less personalised. Some online training is a set workout routine with access to the PT for advice. These are lower cost but might not be as suitable for your goals as a custom programme.
Less accountability. Unlike in-person training, online PT offers less accountability – mentally and physically. This means it is easier for you to decide whether to attend the session. The temptation to cheat the exercises will also be there.
What qualifications should your personal trainer have
A personal trainer should have completed a level 2 fitness instructor course and a level 3 personal training course.
Although a degree isn't required to become a personal trainer, it is vital that they are skilled and knowledgeable in fitness. They must have a deep understanding of the fitness programs and can make accurate fitness assessments.
What other skills and attributes are beneficial in a PT 
Knowledge of teaching and psychology, such as designing fitness programmes and motivating trainees
A strong understanding of physical fitness, fitness terminology, principles, and strategies
Physical skills that show coordination, adaptation, and recovery
Ability to provide assessment
Compassion and understanding
Questions you should ask your potential PT
An initial consultation with a potential PT is the perfect time to get to know them. To help you decide whether they're the right PT for you, ask these questions:
What experience do you have?
Of course, the first thing you should know about the PT is their experience as a fitness trainer. What are their qualifications, who did they train with and how long they have been coaching and how many sessions they have coached in total (approximately of course!).
What PT sessions or classes do you recommend?
Personal trainers that have years of experience will be able to suggest the best classes or sessions for your needs. They should let you know what training plan you must join to succeed in your goals.
What is your style of personal training?
Not all personal trainers follow the same approach to teaching fitness, so make sure their style of training suits you. Learn their methods of teaching and motivating trainees.
How will you track my progress?
The PT should have a tracking process and records to show if the fitness programme is effective. They should also have a plan if the sessions are not working. Ask them if they use an app for personal trainers to help deliver training and communicate with their clients.
How will I know if I'm making progress?
Aside from the record, the personal trainer should also be able to show if you are making any progress. You can scale your progress against your health and fitness goals.
What supplements can you recommend?
Supplements, energy drinks, and post-workout snacks can be beneficial to you. Check with your PT what supplements they recommend introducing to your training.
What should I eat to help reach my goals?
Personal trainers are not dieticians. But they should know what your diet should comprise based on your fitness and health goals. They must be able to suggest meals to consume and avoid during the training programme.
Conclusion
Working with a fitness trainer to achieve your goals has a ton of benefits. However, not scrutinising the program and trainer will cause more problems than good. Request a consultation first to know whether the potential personal trainer is a good fit for you. We hope this post helps you find an excellent personal trainer. Remember that both in-person and online training carry pros and cons. Review your options before subscribing to any fitness training. If interested in more information or have other fitness questions, don't hesitate to contact us.