When it comes to motorcycle equipment, it's all about safety standards – for a good reason. Protective gear is meant to protect you in case of an accident. As a motorbike doesn´t offer you any buffer zone during a crash, your gear can be your life insurance if worse to worst. Were always told that purposive things don't need to be fashionable, cool or anything else but functional. And it's true, they don't need to be. But if they are, it's definitely a huge plus. Even though there's a broad selection of cool gear, you should always make sure to check for safety standards and fit first. Try the following tips in order to find the best motorcycle gear that's not only purposive but also nice to look at.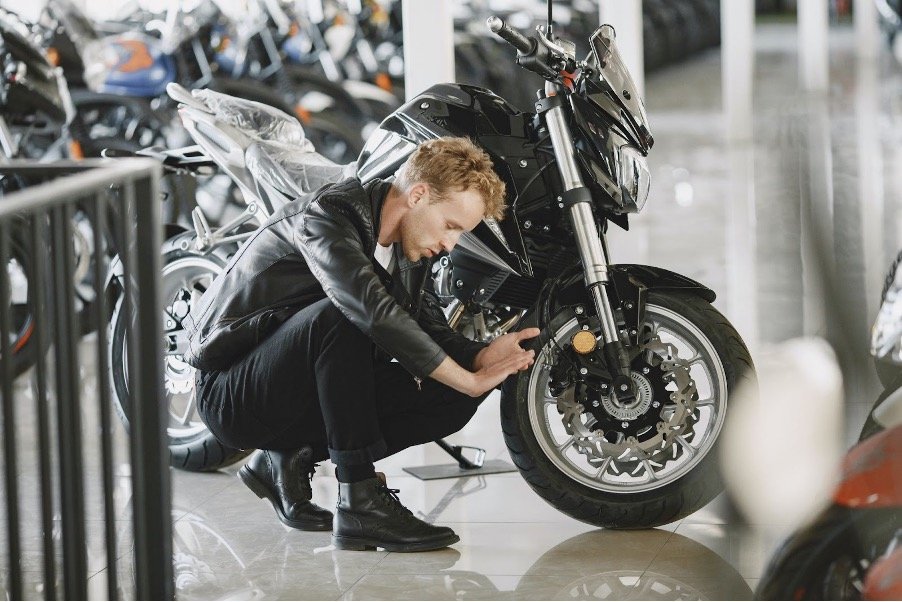 What to Look for in a Helmet
The helmet is the most important accessory for motorcyclists because it protects the fragile skull from impact in case of an accident. Safety standards are definitely the most essential criteria when it comes to motorcycle helmets. But that doesn't mean that you don't have the choice between various cool helmets. You still get to pick a helmet that doesn't only fit you, but that also looks great on you.
Types of Helmets
The first thing to decide upon when buying a helmet is actually a matter of style. If you want to bike off-road, there are special helmets for that. Dirt helmets are different from regular helmets, and usually a lot more laid-back. In fact, their design is to make sure that the parts of the head that are most likely to be injured during a dirt-bike crash are perfectly protected.
But as your personal style may have an influence on the kind of biking you want to do, the choice of helmet style isn´t just one of safety standards. Apart from dirt helmets, there are open face helmets, full face helmets and ADV helmets. The latter combine the laid-back dirt bike style with the street helmet style.
Shape of Head
Once you know which style you´re looking for, it's time to find out about your head shape. With helmets, one differentiates between long oval, intermediate oval and round oval. A picture of your head from above with flattened hair is the easiest way to determine which shape of helmet will fit you best.
Head Size
The size of your head is possibly the most important criterion as the impact-absorbing liner within a helmet can only work if the helmet fits you well. Neither should it be too tight nor too loose. Before buying a helmet, measure your head above your eyebrows where your head circumference is at its widest.
Time for Looks
As soon as you have gathered all relevant information about your head shape and size, it's time to scan designs, colors and prints. In order to underline your usual street style, try to find a helmet that matches your personality: Are you a fan of purism and understatement? Then what about a high-quality black helmet with cool highlights? If you prefer colorful designs, a helmet with a striking print may be the perfect choice for you. You could also level the design of your bike based on your helmet of choice. You could upgrade the graphics and stickers to complement your style. You could check the options from Senge Graphics to get more ideas about the styles.
Motorcycle Jackets, Pants and Boots
If you really want to be protected while riding your motorcycle, you shouldn´t wear your street clothes. Protective motorcycle gear is the better choice, as it can reduce the risk of injury. Today, there's a wide range of cool motorcycle pants, jackets or even motorcycle one-pieces in both subtle and flashy designs. As soon as your motorcycle clothing offers protectors and reflectors on the crucial parts, you´re free to choose it for looks.
The variety of motorcycle boots is a little smaller, but even there, you get the opportunity to find high-quality products that are functional and visually appealing. If regular boots don't match your sense of style, you can even wear motorcycle sneakers with protectors that look just like normal shoes. Flashy boots for dirt-biking are great eye-catchers, too.