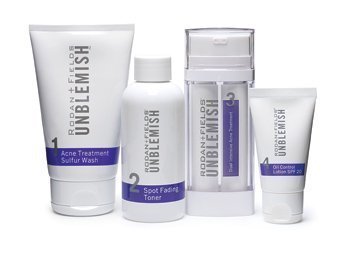 1. Rodan and Fields Unblemish Regimen for Acne and Post Acne Marks Kit ($200 @ Amazon.com)
It's pricey, but worth the investment when you need to rely on heavy artillery. Featuring a combo of lightening tools, moisturizers, vitamin complexes, and face masks that over time can dramatically reduce the appearance acne scars, it's one of the best bets at taking care of the problem in one fell swoop. The downside, as mentioned, is the cost. But can you put a price on being comfortable in your own (non-scarred-up) skin? We don't think so.
2. Neosporin ($5 and up @ Amazon.com) 
Why didn't we start with the cheapest option? Because sometimes you have to pony up for quality. While Neosporin isn't exactly high-tech or new, it's been shown to be effective in reducing redness and treating scars that are relatively new and haven't had time to mature.  It's also a good thing to use when you're looking to prevent a scab from forming.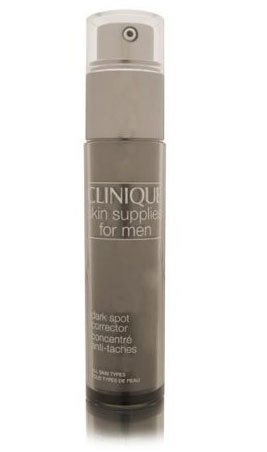 3. Clinique Skin Supplies for Men Dark Spot Corrector ($40 @ Amazon.com)
Some of the products on the market right now are pure genius in terms of their ability to reduce scars by lightening them. Anyone wanting to know how to get rid of acne scars should invest in one of these products as a well-tolerated and often successful remedy. Many of these are made by well-known names in skincare with great reputations. Compared to laser therapy, it's not even an expensive option.
4. Laser Therapy
This is the most expensive option, so use it as a last resort. Targeted laser therapy is a non-surgical technique used to treat acne scars, reducing their appearance or sometimes eliminating them entirely, Zapp Laser Studio explained. This is especially effective for darker scars on lighter pigmented skin and uses a technique similar to cosmetic laser hair removal. In other words, this therapy simply reduces the unwanted excess pigmentation in acne-scarred skin. Many salons and spas offer this service. Laser therapy can also stimulate the production of collagen to fill in pock marks left by severe acne.
5. WoundVite, Heal Fast Post Op Surgery
WoundVite is an all-natural, high-potency supplement for wound care, scar reduction, post-surgical healing and tissue repair. This ultra-convenient capsule has 18 different pharmaceutical-grade vitamins, minerals, herbs and supplements – each researched backed in clinical studies. The highly rated and reviewed product was developed by pharmacists, physicians, podiatrists and naturopathic doctors. It's made in the USA, in an FDA-registered facility, and follows Good Manufacturing Practice (GMP) guidelines to ensure their products are of the highest quality and purity.
Want To Keep Reading? Try This: 5 Tips To Get Rid Of Back Acne