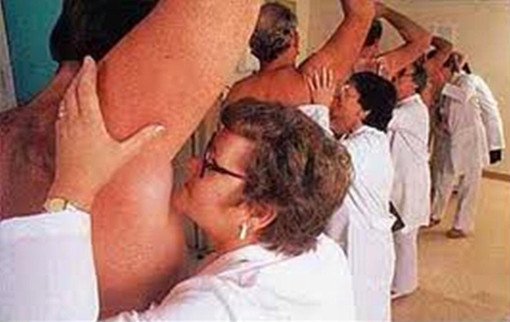 Soaking-wet, foul-smelling armpits won't score any points with your boss or women … well, women who don't have sweat fetishes. And when your pits stink, people notice, even if they're too embarrassed to let you know about it. The problem is that many of the best antiperspirants for men are aluminum-based — and while they do a great job of temporarily blocking sweat ducts and suppressing odor, the jury is out on whether the aluminum they contain is harmful.
Aluminum is a neurotoxin, and some researchers believe that the aluminum in antiperspirants for men can disrupt hormone levels. They also suspect it plays a role in Alzheimer's disease. Plus, whenever your underarm waterworks start flowing, aluminum is partially responsible for the grotesque yellow stains you get in the pits of your undershirts.
So, there are pros and cons to using them, and for every study that says you should avoid using aluminum deodorants, there is another one that claims to debunk the previous study, leading to mass confusion. That being said, if you don't want to take a risk, you have options. Lots of them, actually. And if you're worried about the aluminum in antiperspirants, opt for these aluminum-free deodorants that are made from natural ingredients.
Best Natural Deodorants for Men
There are no parabens, propylene glycol, triclosan, alcohol, or aluminum, but there's plenty of good stank to cover your bad stank and it's quick-drying. It's also 100 percent vegan and made in the United States. That means you've got an in for the PETA and neoconservative crowd. Overall, the scents last for most of the day, with only one of our editors complaining that it faded too quickly. The rest of us were happy with the results, and we think you'd be happy with them as well.
If you have sensitive skin and want a deodorant that eliminates odor without the use of alcohol, aluminum, or other harsh chemicals, give Lavilin a test run. The application takes some getting used to — you dip a tiny spatula into the cream and apply it like you're painting — but it becomes effortless after a few uses. The formula says it keeps your pits odor-free for up to seven days even if
The formula says it keeps your pits odor-free for up to seven days even if you shower, but don't push the limits. Like any of the best natural deodorants for men, your activity should determine how often you apply. It'll go on white but give it a minute or two to settle and that'll fade.
Made in Canada with certified organic botanicals and without animal testing, Nature's Gate glides on easy without leaving any residue. Again, all harsh chemicals have been omitted and replaced by things like baking soda and vegetable-derived extracts.


Along with foregoing aluminum, Crystal Rock lacks parabens, artificial preservatives that may link to breast cancer, and phthalates (THAY-lates), which have been observed to damage the liver. Crystal rock uses a mineral salt crystal that doesn't allow bacteria to breed.
And bacteria are what make you stink. Another plus? Crystal rock isn't just one of the best natural deodorants for men; it's also one of the longest lasting. Unless you apply deodorant to your underarm like you're painting a barn, one stick can last an entire year.
Good thing more evolved guys like us don't judge a product by its name. Jungleman's deodorant — oddly, the formula touts itself as being unisex — is odorless and contains only four ingredients: baking soda, corn starch, palm oil from non-peatlands, and tea-tree oil. It's also super absorbent and won't stain clothing. Don't believe us? They printed it right there on the label!
We're not fans of their deodorant sticks — they just didn't work — but the bars seemed to work better. It boasts 24-hour protection from damp and rancid pits, although, it really dependent on activity. The formula employs hops and zinc ricinoleate to absorb underarm bacteria and a lichen/coriander combo to neutralize odor. The apricot scent is one of their better- reviewed options; the unscented formula is commonly accused of causing underarm irritation from reviewers.
Although Burt's Bees is owned by mega-company Clorox, the small subsidiary brand is Leaping Bunny-certified (which may sound kind of lame, but it means cruelty-free). The sage blend scent comes well reviewed by stink-prone users.
This deodorant comes in spray form, which may not seem strong enough, but critics report otherwise. Plus, it dries instantly, so it won't rub off on clothes, and it leaves none of that unsightly underarm residue.
Schmidt's Natural Deodorant is free of parabens, aluminum and phthalates. It's also made right here in the beautiful US of A. Comes in five scents and uses essential oils as a disinfectant and skin healer. So it's not just one of the best natural deodorants for men — it's one of best ways to stay fresh and support Old Glory! USA! USA! USA!
The people at Primal Pit subbed in organic shea butter, coconut oil, and fragrance oils to keep toxins and other harsh chemicals out of their pit-drying formula.
You can spin the pit-hair issue into a positive by saying it's a wake-up call to groom under there. As for the white streaks, we found the best way to apply it was shirtless. Then take a hand towel and rub the excess off while rubbing the deodorant in.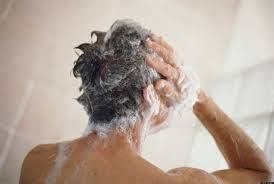 Now that your armpits are all set with a natural deodorant, it's time to find the best men's shampoo for your hair type. We've find the perfect guy-tested shampoo regardless of your hair type.