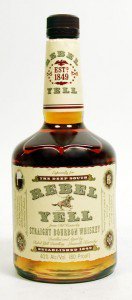 Secretmarmalade.com's Rebecca Swanner hooked us up with this recipe for Spicy Bourbon Brownies, which require one pot, can be made in eight simple steps, and serve as a great excuse to drink bourbon.
Ingredients:
• 1 ¼ cup sugar
• 1 ½ tsp vanilla extract
• 2/3 cup all-purpose flour
• ¼ tsp salt
• 6 ounces (approx. half a bag) of dark chocolate chips (we recommend ones made with about 60 percent cacao)
• 11 tbsp (1 stick + 3 tbsp) unsalted butter
• 2 eggs
• 3 tsp bourbon
• ¼ tsp ancho chili powder
• ½ tsp cinnamon
• Vegetable/canola oil spray



Tools:
• 9x9x2 baking pan
• Spatula
• Aluminum foil
1. Position the oven rack in the middle of your oven and preheat to 325. Cut a piece of aluminum foil to fit a 9 x 9 x 2 pan, leaving a 2-inch overhang. Precision isn't necessary; this will just make it easier to remove the brownies.
2. Spray the foil with vegetable oil; use a paper towel to make sure it's evenly covered, and place the foil into the pan.
3. Melt the butter in a medium-sized saucepan over medium heat. The butter will foam. Stir continually for about five minutes or until brown bits form on the bottom of the pan.
4. Remove the butter from the heat. Add vanilla, salt, bourbon, sugar, and chocolate. Mix . Let the mixture cool for 5 minutes.
5. Add one egg to the mixture. Beat it (heh heh) vigorously with a spatula. Repeat.
6. Add flour, cinnamon, and chili powder. Stir until everything is mixed.
7. Pour into the pan. Bake for 20-25 minutes. When the mixture is done, the top should look set and dry.
8. Remove from the oven and set on a rack to cool. When cool, remove the foil, flip the brownies onto a cutting surface, and slice.
If the directions were too tough to follow, you can fire Rebecca questions via email at [email protected]. Tell 'er Large Marge sent ya!