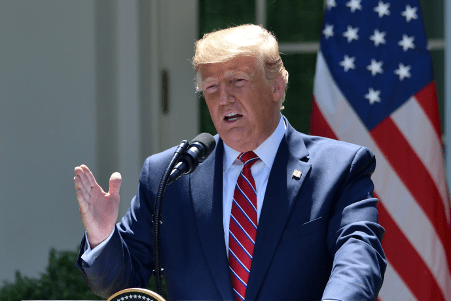 To look at the national presidential election polls, or the next US President odds from Betfair Exchange, you'd be forgiven for asserting that President Donald Trump is in a bit of a sticky situation ahead of Election Day on November 3rd. At the moment, Democratic candidate Joe Biden is leading the polls, and is looking confident of winning the White House.
But the last thing Biden, or any supporter of the Democratic Party, will be doing is counting their chickens before they've hatched. You need only to look back to the 2016 presidential election to see that the polls, odds and predictions aren't always accurate in the run-up to Election Day. Four years ago, Hillary Clinton looked a dead cert to become the first female President of the United States, and keep the Democrats in power, but Trump upset the odds by winning a number of key battleground states to deliver what was, in the end, a comfortable Electoral College victory, despite losing the popular vote.
That is the kind of situation Biden will be on-guard against as the election campaign reaches its climax. While the national polls show that he has a clear lead, they are not indicative of the tight nature of the key swing states, some of which hold significant numbers of Electoral College votes. This is where Trump's hopes lie, in the fact that if he can garner enough support between now and November 3rd, he could well muster up enough votes to earn another four years in office.
The President has proved himself to be a master at whipping up a frenzy, and his supporters are among the most passionate ever seen. You can bet that all those who seriously back Trump will be out in their droves on Election Day to play their part in the Republican winning another term in the White House.
While Trump always comes across incredibly confident, he'll no doubt be sweating a little given the nature of Biden's lead in the polls. While he'll be up for the challenge of springing another surprise, there is a sense that Biden's campaign is significantly more solid than Clinton's was four years ago. Much of Trump's campaign seems to have been geared towards showing up Biden as too old for the office of President, but instead, Biden has risen to every challenge and proved himself astute in all situations.
Belittling his opponent is one of Trump's favoured tactics, and he used it to great effect to defeat Clinton, but Biden has not bowed under the pressure thus far. In the two televised presidential debates, the Democrat proved that he is not afraid to fight fire with fire, and this is arguably one of the reasons Biden has established his lead in the polls.
As a result, it looks as though this year's presidential election will be an extremely close affair, in terms of both the popular vote and the Electoral College results. But regardless of what the polls say, you can never count Trump out, especially after what happened in the 2016 election. One thing is for sure, it's set to be a nail-biting conclusion to the election for supporters of both major parties.