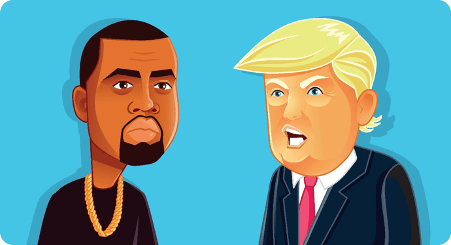 As the presidential race between current Head of State Donald Trump and Democratic nominee Joe Biden, who is the massive favourite in the next US President odds, heats up, we seem to have forgotten that, just months ago, rapper Kanye West tried to throw his hat in the ring.
Back in 2015, West said he would run for president at the MTV VMAs. And, on July 4th, 2020, 'Yeezy' surprised his 30 million Twitter followers with the announcement that he would be putting his name forward for this year's election. However, after a very short attempt at actually trying to run a campaign, his team's efforts fizzled out, and we haven't heard a thing since.
So, what has happened to the Birthday Party campaign? Read on to find out more.
In the beginning, there was speculation that West was running as a publicity stunt to promote his new album, whilst others believed it was an effort to sway black voters in his favour, to help aid President Trump beat Mr Biden. After all, the rapper has been a massive supporter of the President in the past. However, he broke all ties soon after announcing his candidacy.
The failure to meet state deadlines also largely effected Kanye's campaign. According to PEOPLE, one of the rapper's former campaign operatives claims that West had 'too many chiefs' within his campaign. This reportedly cause disorganisation and, as a result, multiple failures to get the 43-year-old's name on the ballot in at least 38 states.
West's paperwork was either rejected by state officials or withdrawn by his campaign in nine states, whilst in a whopping 29 of the 38 states where the rapper was unable to get on the ballot, was because his team didn't submit the paperwork before the deadline.
"They'd line up vendors then wait until the last minute to make a decision, or Kanye makes up his mind at the last minute," the anonymous campaign member told PEOPLE.
Instead, West's name will appear on the ballot of just 12 states: Arkansas, Colorado, Idaho, Iowa, Kentucky, Louisiana, Minnesota, Mississippi, Oklahoma, Tennessee, Vermont, and Utah. Meaning that he cannot even achieve the minimum of 270 electors to win the presidential election.
In some of these states, including Louisiana and Oklahoma, West was able to buy his way onto the ballot. That's because voter signatures were not required, instead the rapper spent $35,000 getting onto Oklahoma's ballot and a mere $500 to feature on Louisiana's.
When it came to gathering signatures, West's campaign often fell short. In fact, his team skipped filing the paperwork in larger states like California, which requires independents to rack up 200,000 signatures, whilst they even failed to gather enough signatures in smaller parts of the country, like New Jersey, which requires just 800 supporters.
To make matters worse, a New Jersey election attorney raised a complaint about West's application in the state, claiming that many of the rapper's signatures were incomplete or in the same handwriting. His team later withdrew in the state, and were blocked from applying in Virginia, Wisconsin, and Ohio.
Considering Kanye splashed almost $7 million on the campaign – $4.5 million of which was spent on ballot access – it's hard to believe that it was a publicity stunt for an album, or to help aid the re-election of Donald Trump. Maybe he just underestimated the task at hand.