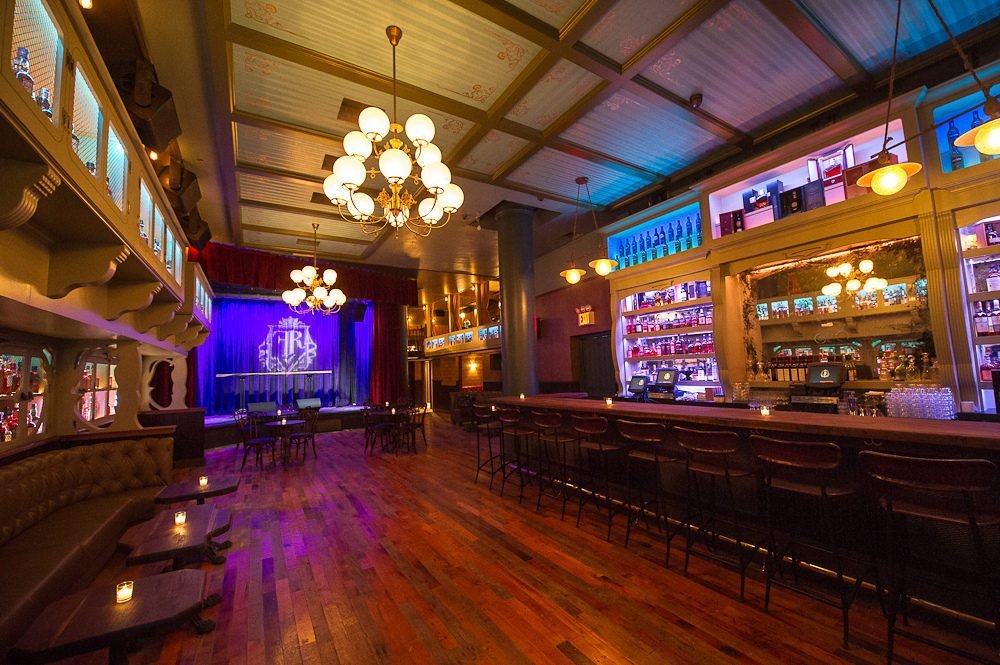 As one would expect from a city that  never sleeps, New York City has some incredible nightlife spots. Whether you're looking to patron a laid-back watering hole, relaxed tavern, or high-end lounge we've listed some of the best bars and lounges in NYC.
The Flatiron Lounge (pictured) is one of the best bars and lounges in NYC if you're looking to impress a date. This posh yet intimate lounge favors jazz music and serves a fantastic variety of delicious cocktails. With just the right amount of romantic ambiance in a cozy space, the Flatiron Lounge is a great choice for a little seduction.
Amor y Amargo
(Love & Bitters)
443 East 6th Street
This colorful, tiny place in the East Village is known for both its cocktails and atmosphere. If you're new to bitters philosophy, don't worry — the barmen will recommend you a cocktail according to your preferences. Moreover, you'll be able to watch professionals working their cocktail magic — mixing drinks in special glasses and zesting lemon peels right onto the bar.
Minus 5 Ice Bar
1335 Avenue of the America
It's a frozen kingdom in Midtown that has an interior made entirely of ice. The $20 cover charge gets you a disposable parka and gloves; you drink from ice glasses — $15 for a cocktail, $7 for the cold beer.
Jekyll & Hyde
7th Avenue South
It's a must-stop for fans of creepy things and horror films. However, the gothic decor and special effects make it more of a fun place to drink than dine.
The Rusty Knot
425 West Street
Placed on the western edge of the city near Hudson, this nautical dive bar offers exotic cocktails, unconventional kitchen options, and moderate prices. Happy hour is from 4 to 7 p.m and offers a wide selection of beers.
Burp Castle
41 E 7th Street
Opened in 1992 and themed as Belgian Trappist monastery, it's a "temple of beer worship." Medieval-style murals, wood panels, and bartenders occasionally wearing monk robes provide all add to the experience.
6. Boobie Trap
308 Bleeker Street
You can guess the theme, but it also features a delicious, slowly smoked barbeque, '70s-era playlist, and a topless mannequin hanging behind the bar. Naturally.
Slaughtered Lamb Pub
182 West 4th Street
Two-for-one happy hours, and a menu of sandwiches, steaks, and pastas. So, the basics. Still, there's a haunted dungeon where you can shoot pool and play darts.
Flight 151
151 8th Avenue
Unsurprisingly, it's a flight-themed bar with cheap beers. Known for Thursday Trivia nights and Tuesday Flip night, where you can have a draft for half a price.
Brooklyn Farmacy and Soda Fountain
513 Henry Street
Go back to 1920s in this former apothecary building that was reconstructed and turned into a bar, it offers different kinds of soda and sundaes, as well as a menu of dishes with names such as 99 Problems, Bandana Split or The Elvis.
Vynl
756 9th Ave
Decorated with vintage LPs and disco balls, the bar offers a fusion of Asian and American cuisine, as well as a selection of restrooms with celebrity names. Who would't want to piss in a restroom with links to celebrity?
Also Read: 5 Movie Time Travel Theories Explained