Your fall sweater should be versatile, offering a stylish component to your outfit while serving a purpose. As in, the best fall sweater can work as a top layer on a chilly day or a step up in style from a hoodie. That being said, it's a good idea to sub in the right fabric and look that work with your body type, height, and weight. Use these tips as a guideline and consider the five sweaters listed below.
FABRICS
Cotton, linen or wool may be pricier and require more care. Meaning, when the tag instructs you to "air dry" don't ignore the suggestion like you would a "please flush" signs in public restrooms. Still, that extra cash will pay off with durability.
Wool and sheep's wool are common sweater fabrics, both offering sufficient weight and softness to warmth and comfort. Merino and lambswool are also soft but lighter than sheep's wool. Shetland is heavier and ideal for cold climates, but can leave you feeling itchy. Cashmere is light and delicate fabric made of goat wool; it's one of the best sweaters for men who aren't on a super strict budget.
NECKLINES
Guys with broad shoulders or long neck might consider crew sweaters; they have a neckline like a T-shirt. They're also not as formal looking.
V-necks can work with most body types; they'll visually elongate the body and draw eyes upwards. If you're a short dude with a stubby neck, V-necks are a solid go-t0.
Turtlenecks … should be eliminated from the universe aside from ski resorts. However, if you're dead-set on wearing one know it will can help define the torso and highlight the jawline. Wear it under a blazer or jacket, and use it to mask a weak chin if you're not looking to sports a beard.
A shawl collar works best with casual outfits; it's a kind of lower V-neck, with all the effects following. Highlight your shawl collar with a T-shirt in contrasting color, and you'll certainly get some hot Mediterranean flair.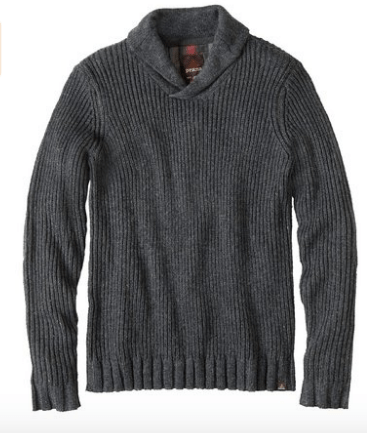 prAna Men's Onyx Sweater ($119 @ amazon.com)
It'll be snug on your biceps and chest, but won't look as casual as a crew neck pullover. That said, the half cotton and half acrylic fabric keeps it feeling comfy without feeling like it's constricting you.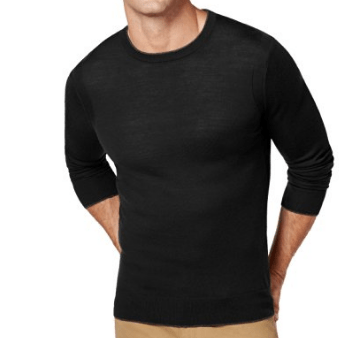 Michael Kors Merino Wool Pullover ($88 @ Amazon.com)
If you own a pair of moobs skip this tight-fitting shirt; if you're slender or have pecs like Arnold Schwarzenegger from the Conan era, go for it. It's made from 96 percent extra fine Italian Merino Wool, 3 percent Polyamide and 1 percent elastane – strong, durable,and rugged.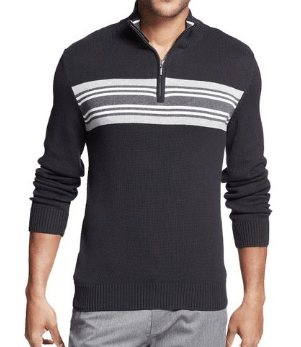 John Ashford Chest Stripe ($20 and up @ Amazon.com)
Made of 100 percent cotton, you'll be comfortable and looking casual with ribbed cuffs on the sleeves and at the bottom.
Nautica V-neck ($50 @ macys.com)
Wear it over a tee or under a blazer and it fits. This is a staple item for every man's closet. Made from a silky-feeling cotton, viscose, and nylon.
Ribbed Sweater ($30 @ H&M.com)
Loose fitting and soft, the ribbed sweater won't look billowy as it keeps you feeling warm and toasty.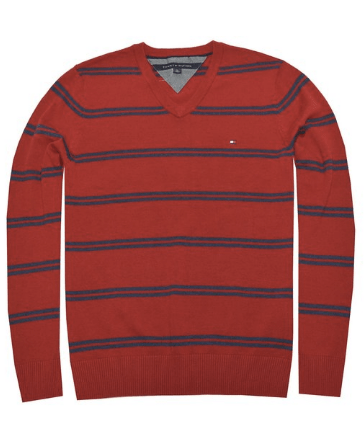 Tommy Hilfiger V-neck Stripes ($40 @ Amazon.com)
Pair it with jeans and the 100 percent cotton sweater is the perfect fit for a casual office or a night out.