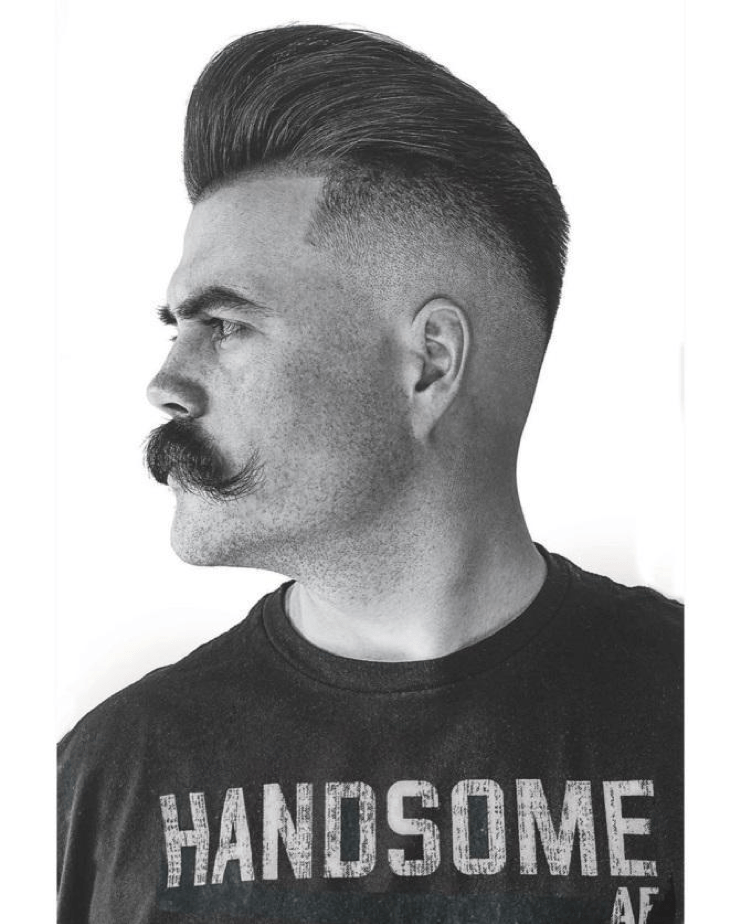 There are great hairstyles for men but pompadour has taken a special slot in the list of those superb men's haircuts. If you are keen, you will notice this haircut is so popular among celebrities. From football legends to movie stars, when you search "great hairstyles worn by celebrities" you will not miss pompadour styles in the first three searches.
This men's haircut style has come from far and everyone loves it.It is simple style that involves sweeping the hair up and back over your head. Then the hair at the back and sides is combed neatly and maintained close to the head. A quiff is then created using the long hair at the front. Here are trendiest variations of pompadour hairstyles.
1. The Classic Pompadour.
Have you seen Elvis famous hairstyle? Well, if you have seen it and you want a look exactly as his, this is the best look to opt for. However, this 1950s hairstyle is only for those men who are ready to spend at least fifteen minutes every day to style their hair. Apart from that, the haircut requires serious maintenance.
Famous for its high shine and volume, the classic pompadour needs a lot of locks that have been cut with a scissor subtly shorter at the nape of the neck and the sides. The hair at the top is left long.
To recreate this haircut, use the old-school pomade, which ensures a soft, slick and shiny finish.
2. The Modern Pomp.
If you need a more kingly look but still something more contemporary, opt for this dishevelled pompadour. This hairstyle is defined by neat and bold contrast between the longest of hair at the top and the shortness of manes at the back and the sides.
As opposed to the classic pomp, the contemporary pomp doesn't need much combing and cutting the hair at the side and the back.
3. The Short Pomp.
If you need a beautiful alternative to the classic pomp, then you should opt for the short pomp. Cutting off some few inches from your hair will do the trick.
Short hair is always low maintenance unlike the longer variations that need a lot maintenance to keep the looking good. In this look, the back and the sides are clipped short haircuts for men, either to one length or faded.
Though you will need to do much to finally get the desired pompadour, you will not need a lot of hair and that implies you will not need much product and also you will save time.
4. The Textured Pomp.
If you don't need a traditional pomp style because you think it is going to be too neat, then you should opt for a textured pomp.
This look is best for men with curly hair or thick hair. you can also consider incorporating clean lines and high shine for an excellent finish. Instead of using a pomade, the style depends more on a paste or a comb to make it fall to the back.
5. Pomp Undercut.
When it comes to contemporary pomps, one of the trendiest styles is an undercut. Many guys like maintain a pomp inspired top with elongated hair and then cutting the rest of the manes. However, there are many ways you can style this haircut.
6. Mid-Pomp Haircut.
This is one of the common ways you can style a pompadour and an undercut. Typically, this haircut is classified as a mid-taper fade because of the gradual method used for cutting the hair on the back and the sides.
7. Angled Pomp.
If you are looking for a haircut that is sure to turn heads and a dapper one, then you cannot go wrong with this classic pompadour haircut. However, to rock this cut, you need to invest in buying top notch hair products and then try to get the best shape that defines your personality and style. For instance, this angled approach is a great way to go.
8. Messy Pomp.
If you need a super and classic contemporary pomp that will take you to your office and after that go to a Friday night party, then this messy pomp is the way to go. It is easy to style and it exudes great boyish look.