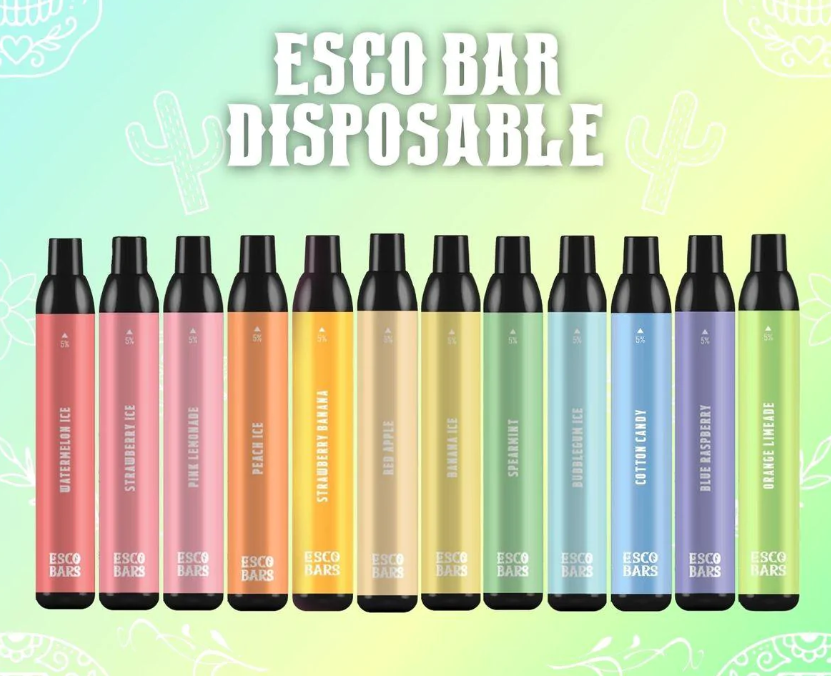 As the days go by, there are more and more disposable vapes on the market. However, one brand stands out among the rest: Pastel Cartel.
With its disposable Esco Bars, available in an enticing variety of flavors, Pastel Cartel has become one of the leaders in the e-cigarette and vape industries, but are its products worth the hype?
The short answer is: yes, Esco bars will not disappoint you! However, you still need to learn a few things about this disposable vape pen. Read on!
What Is Pastel Cartel?
First, it's essential to know a little more about the manufacturer behind these disposable vapes.
Pastel Cartel has earned a spot as an e-cigarette leader with the Esco Bars, considered among the best-tasting pod disposable vape alternatives out there.
In addition, the brand's disposables are long-lasting and visually appealing, so you always enjoy a high-quality product both inside and out.
Besides the delicious flavors many users have loved, disposable Esco Bars also feature long-lasting battery life for maximum fun and great vape juice for a better, unforgettable experience.
What Are Esco Bars?
Esco Bars by Pastel Cartel was born as a manufacturing brand of disposable vaping devices with mesh coils and heaters to atomize vape juice better.
However, these disposable vapes have gained popularity due to the considerably high number of puffs.
With over 20 mouth-watering flavors, a built-in mesh coil for better atomization, different sizes, and varying puff counts, an Esco Bar offers top features in just one vape.
Esco Bars Design
Pastel Cartel designed Esco Bars as draw-activated disposable vapes for those looking for easy-to-carry and compact devices with high performance.
These disposables have a more cylindrical and curved body with an extended, pointed mouthpiece that makes it easy to inhale, even for first-time vapers, and to grip.
Although their shape is similar to conventional disposables, Esco Bars have other features and additions to improve their appearance.
Some things that you'll love the most about these vaping pens are the small LED on the tip and their designs without buttons or external controls.
In addition, thanks to their curved design, solid structure, and cylindrical shape, you can hold Esco Bars comfortably in the palm of your hand while avoiding the loss of vape fluid and keeping the device in an upright position to make the coil work better.
As the mesh coil is in its base, keeping the Esco Bar disposable vape pen upright could give you a richer and more intense flavor!
Portability and Handling
As you can see, Esco Bars are a hit among e-cigarette enthusiasts for several reasons. One of them is that they are some of the best disposable vapes you can find on the market if you are looking for easy-to-carry devices.
Although its structure is solid and has been built using only high-quality materials, a disposable Esco Bar is lightweight, making it the perfect option to use on the go.
This disposable vape pen created by Pastel Cartel is also compact and highly portable. Therefore, you can take it with you wherever you go, whether it's partying on a Saturday night or you're traveling to a vibrant destination with lots of clubs!
Battery
Although its body is small and portable, an Esco Bar is ergonomic and roomy enough to accommodate a built-in 1000 mAh high-capacity battery!
On a single charge, this disposable Pastel Cartel device can last a full day of use, depending on the frequency of puffs.
In other words, thanks to its high-capacity battery and high puff counts, you can enjoy a unique and tasteful experience for a long time.
Contents
Finally, there's the consumable product! Are Esco Bars mesh vape flavors as delicious as people say? Yes, they are!
From Strawberry Ice to Cotton Candy and Lemon Drops, you can choose from a wide selection of flavors for your Esco Bars.
Also, these disposable mesh vapes can deliver up to 6000 puffs, depending on the model you choose.
Esco Bars feature a mesh coil that optimizes the vaporization process for a big e-juice volume of up to 14mL and water-based nicotine with levels of 50mg.
Esco Bars Flavors: Which Are The Best?
As mentioned, Pastel Cartel introduced several flavors for the disposable Esco Bar mesh vape pen, promising a wide variety, ranging from desserts and sweet fruits to traditional menthol, ICE, and tobacco.
Considering the different interesting layers of flavor these disposable devices provide, here are the top five options you can find:
Rainbow: It's, without a doubt, one of the best flavors. If you try this one, you'll travel straight back to your last summer as tangy berries and sour citrus notes awaken your senses.
Lemon Drops: If you like to combine sweet and sour flavors, this one is the right choice. It's the perfect combination to have a smile on your face.
Banana Ice: Esco Bars also offer this interesting combination of sweet, fruity flavors of ripe bananas plus menthol and ice-cool topping that falls outside of traditional standards.
Cotton Candy: If you vape on an Esco Bar, you can also enjoy this deliciously strong cotton candy flavor enhanced with ice undertones that will take you back to your childhood!
Pros and Cons of Esco Bars
When it comes to vaping mesh devices, disposable Esco Bars are one of the best products you can find. These are some of its advantages:
Affordable price compared to other vaping mesh devices
Large puff count for maximum enjoyment
Wide selection of flavors, including fruity like peach and watermelon and the classic tobacco
Compact design that you can carry in your bag
Provide 50mg of salty nicotine
Large battery capacity for extended runtime
However, since not everything is rosy, there's also a downside that you should be aware of before buying yours:
You cannot change the atomizer's heads to disposable Esco Bars devices even if they run out
Final Thoughts
While you can find many mesh vapes with similar characteristics and the same nicotine content, Pastel Cartel and its disposable Esco Bars go beyond that!
These disposable vaping devices promise a high-quality flavor profile with top-notch performance at a great price. Also, what really makes the disposable Esco Bar stand out from the competition is that this mesh vape pen perfectly blends good nicotine content with delicious flavors while ensuring the same quality even after several puffs.