Trucking in the USA is a highly-respected profession. The US economy directly depends on land transportation. Of course, the job of a truck driver is not easy, but it is quite in demand. Drivers receive 50 cents per mile. Working as a driver, you can earn more than $6 thousand per month or $72 thousand per year. If you work as a contractor on your own truck, you can get $10-12 thousand a month.
To get a job, you need to pass an American driver's license. First, you need to receive a regular license to drive a car, and only then can you get the CDL license. It will take from two weeks to several months to study in the CDL school and pass the exam. More details about this type of license – read below.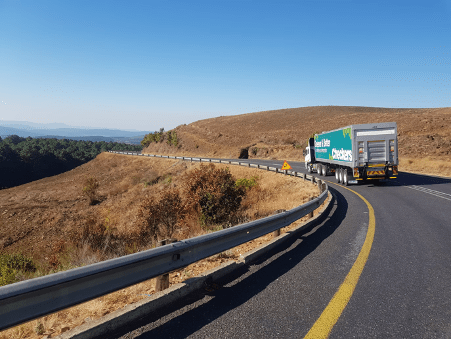 How to Receive a Commercial Driver License?
To work as a truck driver, a candidate must have legal status in the United States and CDL (Commercial Driver License), which is issued only after obtaining a regular license for a passenger car. Obtaining CDL is divided into three main stages. Let's talk in detail about each of them:
Step 1: Prepare the documents
To obtain the original CDL in your State (Grade A, B, or C), you will need to collect documents with which you can apply for a study permit at the DMV office. This package of documents includes:
State License (Class D, Class E, or no-CDL C) for a passenger car;
SSN (Social Security Number) which is used for tax and pension records;
A medical certificate, which confirms your physical health and ability to drive the selected vehicle.
Step 2: Theoretical stage
This is an exam on a computer. This stage includes passing three tests:
General Knowledge (50 questions) – to pass the test, you must score at least 80% or answer 40 questions correctly. It includes such topics as basic vehicle control, vehicle inspection, driving, keeping distance, etc.;
Combination Vehicle (25 questions) – a test seeks to check if you know how to properly make the clutch between a trailer and towing vehicle. This test requires a minimum of 20 correct answers;
Air Brake (25 questions) – the test aims to check your understanding of system components, repair, maintenance, pressure ranges, and the braking distance of a vehicle equipped with an air brake.
They can be taken individually and on different days.
Step 3: Practical test
Having successfully passed the three above tests gives you a Commercial Learners Permit (CLP). This is a student ID that allows you to drive an appropriate vehicle class under the guidance of an instructor. The permit gives you the right to attend a driving school or drive in the presence of a driver who already has the CDL class A license. This is required to pass the Road Test.
Road testing consists of three stages as well: Pre-Trip Inspection, Basic Control Skills Test, and On-Road Driving Test. Your local DMV office will give you a temporary CDL that lasts 90 days.
Get ready to pass the exams in advance. Good luck!