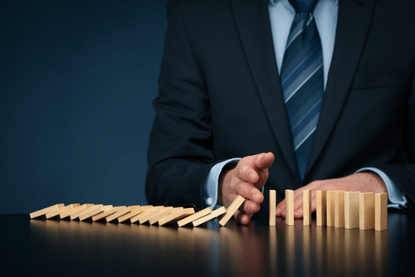 As a business owner, it's important that you keep your company safe and secure at all times. You need to protect your company premises, staff, vehicles, machinery, inventory, and other company assets to ensure that your company continues to operate successfully going forward. However, sometimes a disaster can strike that can prevent your business from operating for weeks, or even months. In this situation, how can you keep your business afloat and pay the bills?
For those that need an extra safety net, business interruption insurance is designed specifically to help business owners to cope with situations like this. When an unexpected event such as a natural disaster or a fire causes disruption to your business operations, you will be able to recover the secondary losses that the business incurred such as an increase in operating costs or lost revenue. With business interruption insurance, business owners can rest easy knowing that their business will have a much better chance of staying afloat if their business is unexpectedly disrupted.
Continue reading below to learn more about business interruption insurance and how this type of insurance can benefit your company.
Which Businesses Benefit The Most?
There are many different reasons that you might choose to take out business interruption insurance. However, some businesses may benefit more from having this type of insurance than others. If your business has a lot of inventory, you pay high rent, you have a brick and mortar store, you hire a team of employees, or you use special equipment in your business, then business interruption insurance is a good choice.
With the right insurance policy, you will have peace of mind should something unfortunate happens and your premises, employees, stock or machinery is damaged preventing your business from operating. You may even still have bills to pay which business interruption insurance can help you with until you get back on your feet.
Keeping You Covered
Generally speaking, most business interruption insurance policies will cover lost revenue, increases in operating costs, fees required to process the insurance claim and any outstanding debts receivable that cannot be processed because of damage to your financial records. Having this kind of cover will allow your business time to breathe and recover should you face a major interruption to your business operations. However, business interruption insurance will only cover you if these things were the result of an insured event like a fire, natural disaster, theft, escaped water, vandalism, explosions and other similar typically insured events.
Get The Right Level Of Business Interruption Insurance
Before you get a policy for your company, you should first figure out how much business interruption insurance you need to get. First, you will need to calculate how much revenue your company is expected to make over the next twelve months. Next, you will need to work out a period of time that you would expect your business to require to rebuild, should your business be interrupted due to a fire, natural disaster or similar event. With the amount of revenue, you expect to make and the number of months you think that it would take you to rebuild your business should the worst happen, the insurer will be able to calculate your limit of liability.
Business Interruption Insurance Will Help You Survive Uncertain Times
Every business owner envisions a positive future for their business. However, regardless of your optimistic outlook and productive approach to business, an unforeseen event can result in your company being unable to operate or to generate any revenue. Business interruption insurance can help you to get through these uncertain times and give you the breathing room you need to successfully rebuild your business and get back to normal as soon as possible.